Pic Collage 4.41.8 Apk IAP Unlocked for Android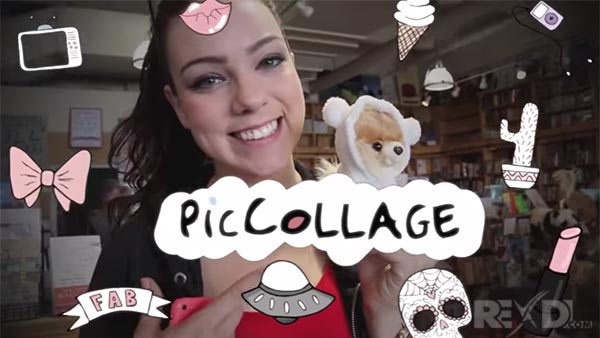 Collage (from the French: coller, "to glue"; French pronunciation: ​[kɔ.laːʒ]) is a technique of an art production, primarily used in the visual arts, where the artwork is made from an assemblage of different forms, thus creating a new whole.
A collage may sometimes include magazine and newspaper clippings, ribbons, paint, bits of colored or handmade papers, portions of other artwork or texts, photographs and other found objects, glued to a piece of paper or canvas. The origins of collage can be traced back hundreds of years, but this technique made a dramatic reappearance in the early 20th century as an art form of novelty.
The term collage was coined by both Georges Braque and Pablo Picasso in the beginning of the 20th century when collage became a distinctive part of modern art.
PicCollage is THE coolest collage-maker in town! Join 95 million people who use PicCollage to combine photos, Youtube videos, funky fonts, sassy stickers and cute cutouts to create the prettiest collages you'll ever see on a mobile device. We have stickers from Maroon 5, Beats Music, Universal Pictures, and LA-based independent designer, Sara M. Lyons. Check out our Contests section and create a visual response instead of just a plain text response. Share with your friends and followers on Instagram, Facebook, Twitter, and iMessage. You can also PRINT your collages into greeting cards or postcards to send to your loved ones anywhere in the world!
Awesome features:
Import photos from your photo Gallery, Facebook and web image search
Import your favorite videos from YouTube
Simple touch gestures to rotate, resize, flick to delete
Double-tap a photo to edit photo with Aviary photo effects, clip photo, adjust borders, copy/paste images
Just tap on the lower-left Frame icon, and swipe to select a frame to make an instant collage!
Clip photos by outlining the area you want with your finger
Lots of backgrounds and stickers to choose from!
Share your creations to Instagram, Facebook, Twitter
Recent updates include:
Print your collages into greeting cards!
Holiday-themed sticker packs and backgrounds
Brand new design with fresh colors, new icons and themes
Choose your own username and profile pic on PicCollage
Follow others to discover more collages
Respond to collages with collages!
We've also added a Contests section where you can Respond to others with your own creations to get shoutouts and more followers, and stand a chance to win awesome prizes from our sponsors.
If you're looking for a place to escape from Facebook and Instagram, this is the latest and greatest.
"Whether you're 6 or 106, you'll find the free Pic Collage app an excellent way to dress up your photo collection and share your handiwork." – USA Today
"You can impress your mother, brag to your co-workers, and make your vacation look even better than it really was, all before you pack your suitcase to return home … It could be the fastest way you'll ever find to organize a batch of photos … Also makes gorgeous emails and can turn your image into a real postcard." – LA Times and Newsday
PicCollage(TM) and "Pic Collage" are trademarks of Cardinal Blue Software. For more detailed terms of service: http://cardinalblue.com/tos
WHAT'S NEW:
Latest Updates:
* New spring background pack and stickers!
* Turn off auto-background
* No banner ads if you pay to remove watermark and ads!
* Other bug fixes and improvements
Recent updates:
* NEW St, Patrick's day & Easter stickers and
templates!
* Fix can't add photo problem