Weaphones WW2: Firearms Sim 1.7.02 (Full Paid) Apk for Android
Offline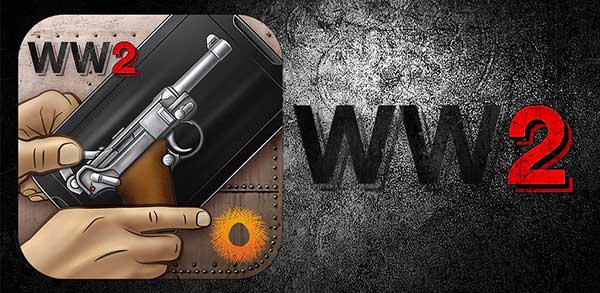 Experience the weapons of World War II like never before. Weaphones WW2 Edition redefines what the term first person shooter means. Don't just play the game, be part of it. Take hold of your device and experience what it's like to load, charge, clear and shoot a firearm.
With Weaphones WW2 you can live out your greatest gun fight fantasies and remain 100% safe. Weaphones features some of the most iconic firearms of WW2, from the German Luger to the American belt-fed M1919. Many of the weapons are customizable; add bayonets, scopes, bi-pods and more! If you don't know how to operate a particular weapon, brush up with our fully animated step-by-step tutorials.
From the high-definition, battle bruised, pistols, rifles and machine guns, to the authentic weapon mechanics mixed with realistic smoke, recoil, muzzle flash and sound effects, Weaphones is all about realism. Everything is customizable to suit the user. Change the size of the weapon to place all controls within easy reach. Rotate and flip to best suit the device and hand preference. On supported devices, enable the camera flash feature and further enhance your experience by leveraging the power of the built-in camera flash to simulate a real muzzle flash.
For the price of one .30-06 Springfield round you get everything. No up-sells or in-app-purchases, just pure fun and free updates (new guns).
_______________________________
» Realistic Fire, Sound, Smoke, Flash & Recoil Effects
» Full Interaction and Control
» Authentic Weapon Mechanics
» Customizable Weapons
» No Up-Sells or In-App-Purchases, You Get Everything Plus Free Updates
» Detailed Full HD Graphics
» Customizable to Fit User's Hand Size and Preference
→ Lefty Flip
→ Rotate 180°
→ Scale
→ Move
» User Adjustable Variables
→ Unlimited Ammo
→ Auto-Reload
→ Weapon Jamming
→ Accelerometer Reloading
→ Camera Flash Shooting
» Weapon State Indicator ("Why Am I Not Shooting?")
» Ultra Detailed Step-By-Step Animated Tutorial for Each Weaphone
» Multi-Touch, Accelerometer & Camera Flash Support
» Social Media Driven Future Content
_______________________________
Weapons List:
LUGER P08
WALTHER P38
WALTHER PPK
M1911A1
WEBLEY REVOLVER
STEN MARK II
MP 40
PPSH 41
THOMPSON M1A1
M1 CARBINE
STG 44
M1918A2 BAR
M1 GARAND
K98K
MOSIN NAGANT
M1919 A4/A6
MG42
M2 BROWNING
M2 FLAMETHROWER
TYPE 97 HAND GRENADE
WHAT'S NEW
Modern Era relaunch of Weaphones to better suit new Android devices and operating system. Thank you all for the ongoing support, none of this would be possible without the die hard Weaphones fans and this update will keep Weapones going well into the future.