PlayerPro Music Player 5.35-237 Apk Mod + Plugins + Themes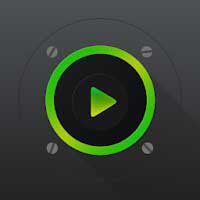 DSP pack 5.0 Plugin
This application is an advanced music and video player for Android devices.
PlayerPro features a beautiful, fast and intuitive interface, alongside powerful audio configuration options. In addition, there is a choice of several FREE plugins to complement it: Skins, DSP Pack, Widget Pack …
Note: the Pro version is standalone. Please uninstall the trial version after purchase.
Key features:
Browse and play your music by albums, artists, genres, songs, playlists, folders, and album artists.
Video browser/player.
Liven up your music library with album artwork, artist pictures, and genre illustrations that you can select from a variety of sources: ID3 tags (embedded artwork), SD card folders, Gallery app, and Internet.
Change the user interface of the Player by installing one of the many available SKINS.
Customize the layout, choosing between GRID or LIST views.
View the LYRICS embedded in the ID3 tags of your music files.
Single and group TAG EDITING: title, album, artist, album artist, track, year, genre, comment.
Mixable AUDIO EFFECTS for Android >2.3 devices: 5 band graphic EQUALIZER with default/customizable presets, STEREO WIDENING effect, REVERB effects (large hall, medium hall, plate, small room, medium room, large room), BASS BOOST effect, volume control.
FREE additional DSP PLUGIN: 10 band graphic EQUALIZER with 15 default/customizable presets, PRE-AMP control, BASS BOOST control, STEREO WIDENING control, left-right volume control. GAPLESS playback. Auto/Manual CROSSFADE. REPLAY GAIN. Audio Limiter. Go to Settings > Audio and select "Download DSP pack" option to install the free plugin.
Music stats and SMART PLAYLISTS: Recently added, Top rated, Most played, Recently played, Least played. Build additional custom playlists using the SMART PLAYLIST EDITOR and the many different criteria it offers: album, artist, genre, title, play/skip count, last played/added, rating, is a podcast, duration, year, file path etc. All smart playlists are AUTO-UPDATED.
Import and export music history and ratings from your favorite desktop music player.
Music folder selection.
Choice of 2 LOCK SCREEN widgets with many customization options: unlock slider, sound toggler, skip tracks using volume buttons, swipe gestures, background selection, controls selection, time display, skin selection …
Choice of 5 different home screen WIDGETS (4×1, 2×2, 3×3, 4×4, 4×2). All widgets are customizable and skinnable: 6 different SKINS available, option to display artist picture instead of album artwork, option to display ratings, shuffle/repeat controls etc.
NOTIFICATION STATUS support: display album artwork, title, album and artist, play/pause, skip forward and stop CONTROLS (ICS only) in notification status.
Supports most popular SCROBBLERS.
SLEEP TIMER with fade out.
SHARE text notifications, album/artist artwork on your favorite social networks.
HEADSET support. Customize long press and double/triple press actions.
Library wide SEARCH. VOICE search support.
SWIPE gestures (player: swipe album art to skip songs, browsers: swipe left to play next, swipe right to play last).
SHAKE IT feature: give your phone a shake to play next/previous song (e.g.: shake top to bottom or bottom to top to play next/previous song).
and many other features to discover!
WHAT'S NEW
– Upgraded to Android 13
– Added ability to customize the left/right buttons in the notification status
– Moved the play time indicator from the first line to the second line
– Changed the navigation/status bars colours
– Added the now playing track details in between the navigation bar and the seekbar on the player screen
– PlayerPro lockscreen fixes/improvements
– DSP pack Android 13 compatibility
– Other performance and stability fixes
– Updated translations