Pacific Warships MOD APK 1.1.25 (Bullet) + Data for Android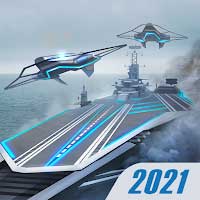 Current Version: 1.1.25

File size: 151 MB | 153 MB

Memorize:

www.ReXdl.com
Online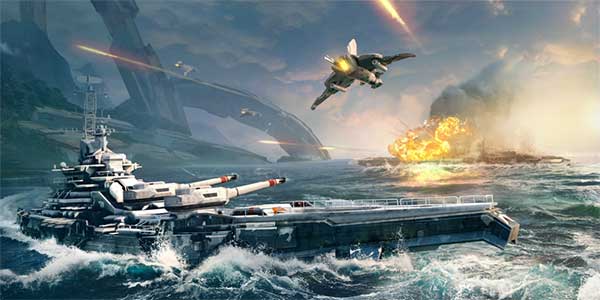 ⚓Pacific Warships: World of Naval Armada Warfare⚓
Play FREE online warship war game shooter and become an armada battleship commander! Welcome to the future world of naval combat warfare!
Try PACIFIC WARSHIPS wargame shooter in a massive torpedo and missiles sea skirmish. Call your crew, ready your battleships and blitz to cruise the Seven seas. Sea warship meets tactics and action in an ultimate naval modern warfare. Tons of lethal navy weapons, artillery, robots and battleships to shoot your enemy with a tsunami of missiles and torpedoes in a REAL-TIME online team PVP.🚢🚢🚢
Collect your gunships in a sea port and form the best fleet from Atlantic to Pacific rim. To fight enemy in ocean war, blitz your gunships through sea ways where oil tankers used to sail. Be the War Armada of the seashore in a challenging warfare!
Action-packed ship warfare offers you new modern and realistic war game on future battlefield.
⚓World ONLINE PvP
Fight with other commander armadas from around the world in online PvP battlefield of naval battle
⚓Stunning 3D graphics
Future is here! The most realistic navy shooter for mobile devices. Play the wargame and check it out! The wargame will run even on a budget device!
⚓Abilities
Get aggressive in your warfare naval tactics with cool warships abilities. Master gunship shooting to become the best commander of the future ship world!
⚓Warship upgrade system
Upgrade fleet of gunships and war ships to be strong like a robot in warfare PvP conflict! Build a variety of shooter guns, missiles, lasers, chassis and deck upgrades to forge your battleship into an ultimate lethal weapon. All upgrades change ships' look and armor
⚓Captain's battleship skills
Improve your stats by researching a skill tree. It's not only about a gunship – the crew matters. Learn new skills and sink enemy ships in a quick naval action blitz!
⚓Call Armada Fleet
Detailed warships such as Arrow, Avenger, Spearhead, and Eclipse, divided into several battle classes from lightweight destroyers to battleships, dreadnaughts and aircraft carriers with robots which look like floating fortresses on duty!
⚓Capture Points
The team that has retained more points wins! Form a battle alliance with teammates' battleships, don't let enemies' gunships capture your point! Use torpedos, robots or active shooter abilities! Conquer the whole ocean in PvP war!
⚓Skill Blitz
Fleet of different gunships from around the world! Pick ones that match your tactics and fight. The goal is to spot, scout, blitz and sink enemy ships, you decide to torpedo enemies in close combat, barrage them from afar like a juggernaut or use air force to drop bombs and torpedoes on enemy gunships. Build up epic robot drones to balance your ships.
⚓Advanced PvP Matchmaking
All sea battles in the wargame are created automatically by robots, just click "FIGHT" button, PvP teams and opponents will be picked up automatically so you can start having fun fast!
⚓Easy ship controls
Intuitive control and easy interface will let you blitz into battle and master the naval warfare!
⚓Amazing Gifts and Rewards
Log into the wargame for battle rewards, battleship upgrades and gifts! Complete daily quests and challenges for more wargame rewards.
⚓Option to select graphics for weak device
Weak device? You can choose the graphics options!
★★★Our navy PvP action is completely FREE to download!
Perfectly drawn battlefield textures, beautiful sky and islands, vivid sea, robot drones. We created a next-level naval action. Regular updates and new content are waiting for you in online multiplayer wargame of 2019.
Not sure what to play? Choose⚓PACIFIC WARSHIPS⚓
Note:
Dear users! We are constantly working on creating new content, improving the wargame, graphics and optimization! Please write to us if you found bugs or issues.
Want to ask about the war game or find friends and allies?
Facebook: www.facebook.com/GDCompanyGames
Support: [email protected]
WHAT'S NEW