Modern Combat Versus 1.17.32 Apk + Data for Android
Online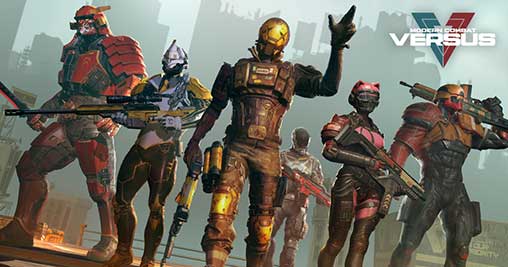 Drop into a free, fun online FPS that defines a new era of shooter games.
Choose your Agent, master your role, and dominate the field of battle with your team. From skilled run 'n' gun attackers and covert assassins to team supporters and defenders, there's an Agent for every style of warfare.
BETA ALERT
Modern Combat Versus is currently only available in select countries and will release worldwide in the future. During the beta period, expect frequent updates, gameplay changes, and other tweaks that aim to further improve your experience.
FEATURES
Make every bullet count in 4v4 online multiplayer battles as your team fights to control a central zone.
Play as 12 specialized Agents, each equipped with unique guns and abilities!
Go for the kill as you battle across 5 distinct maps featuring close-quarters and long-range warfare. There's multiplayer action around every corner.
Get promoted to higher competitive leagues where the warfare hits new heights of online action! Earn free prizes and prestigious rewards.
Pick up and play with groundbreaking, intuitive shooter controls that are perfectly designed for an FPS game.
Get immersed in the action with the best console-quality FPS graphics featuring stunning visuals and effects.
New Agents and guns, game modes, and maps are coming soon in more free updates for this amazing shooter!
If you're a fan of online FPS battles, team based shooter games, and run & gun warfare, then drop into the action for free! Download NOW!
Visit our official site at http://gmlft.co/website_EN
Check out the new blog at http://gmlft.co/central
Don't forget to follow us on social media:
Facebook : http://gmlft.co/MCVSFacebook
Instagram :http://gmlft.co/MCVSInstagram
YouTube: http://gmlft.co/MCVSYouTube
Forum: http://gmlft.co/MCVSForums
Privacy Policy: http://www.gameloft.com/en-gb/privacy-notice
Terms of Use: http://www.gameloft.com/en-gb/conditions-of-use
End-User License Agreement: http://www.gameloft.com/en-gb/eula