Klondike Adventures 2.107.1 (Full) Apk for Android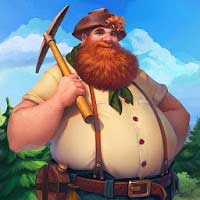 Online
Welcome to the ultimate city and farm experience!
EXPLORE the wild territories of Alaska together with valiant Kate and adventure-savvy Paul. Build strong and prosperous farm and city in the wild. This game has it all!
BUILD a flourishing city with factories and farms, mine for resources and craft everything you need for travels, quests, new buildings and orders from the locals dropping by your town.
FARM in the wild! Raise animals and harvest crops, make food and clothing for yourself and to trade.
COMPETE with neighboring farm owners and take as many craft and farm orders as you can during the timed events held among all the players!
UNLOCK challenging quests! Help explorers Kate and Paul solve mysteries and build up ancient ruins in every town or village they travel to.
PLAY fun mini-games at your farm and at other locations!
ENJOY the breathtaking scenery and landscapes of various locations! Every corner of your small northern town and the whole game world is packed with wonders of nature and history!
MEET outstanding game characters and hear their compelling stories during your journeys from one town to another!
The wild lands of Alaska hide many thrilling adventures. Build the world of your dreams and enjoy your Gold Rush city and farm!
WHAT'S NEW
In this update, you will enjoy:
FRUIT FESTIVAL
– Professor is trying hard not to disrupt another Fruit Festival, but great inventions don't wait!
ANIMAL KINGDOM
– Learn to understand our furry friends and celebrate Thanksgiving in a unique reserve!
TRADER'S STORIES
– Joe's incredibly moving stories will warm your heart even in the harshest of winters!
LUCKY STREAK
– Get ideas for new adventures in the Winter Book!