GPS Fields Area Measure PRO 3.11.15 Apk Android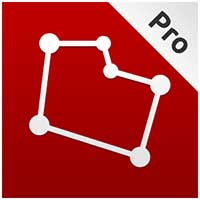 WHATS COOL in this MOST POPULAR measuring app in the Play Store !
It's doing what you actually need !
You need easy, intuitive, few step APP to manage your area, distance, perimeter, POI ?
You got GPS Field Area Measure PRO
DIFFERENCES FROM FREE VERSION:
– No advertisements
– Search by address or saved measures
– POI (point-of-interest) placing, saving and sharing
– KML import
– KML export
– Fields/POIs coloring
– Group editing and coloring
– New handy design for saved measures list with thumbnails
– Ability to connect external GPS receiver for better accuracy
– Ability to share more than one measure at the same time
OTHER UNIQUE FEATURES:
– Fast area/distance/POI marking
– Smart Marker Mode for super accurate pin placement !!!
– Measures saving, editing, deleting, sharing
– Measures grouping and naming
– Undo for all measuring actions
– GPS tracking to walk/drive around boundary/directory to auto measure
Our competitors good but we are better so don't waste your time trying to find best and free app to measure area, distance perimeter or POI choose our app and relax making measuring.
Available languages:
Afrikaans
Arabic
Bulgarian
Catalan
Croatian
Dutch
English
Finnish
French
Galician
German
Greek
Hebrew
Hungarian
Indonesian
Italian
Korean
Latvian
Lithuanian
Norwegian Bokmål
Norwegian Nynorsk
Persian
Polish
Portuguese
Portuguese (BR)
Romanian
Russian
Serbian
Slovak
Spanish
Spanish (CO)
Spanish (MX)
Swedish
Thai
Turkish
Ukrainian
Urdu
And BEST !!
Send auto generated link with boundary/selected area/ direction/route with LABEL to your friends or partners to show exactly place you want to show.
GPS Field Area Measure useful as map measurement tool for outdoor activities, sports, range finder applications, bike tour planning, or run tour planning, explore golf area, land survey, golf distance meter, field pasture area measure, garden and farm work and planning, area records, construction, agricultural fencing, solar panel installation – roof area estimation, trip planning.
Farmers who have farms and grow wheat, corn, rape, maize, sugar beet and need to do year after year field measuring job to check planted area, this is best fits all needs.
Also farmers who managing farm, contractors who doing agriculture jobs for farmers can use this app counting how many field already planted, also they can send to each other link which can be opened on Google maps. If you want to share your measurements with other users or move to other device you just need to export data.
Our measuring app has highest accuracy in the market that is why we are leading measuring app among construction sites, construction contractors, farm contractors, farmers. Among people who doing roofing, golf fields, spraying, fertilizing, seeding, harvesting, tilling, biking, traveling, planing trips, building buildings and roads, making gardens and paddock, grass, lawn. Also farmers who doing beef, pork, chicken, cow they doing fence measuring and planing. Also we have pilots who using app flaying among the fields. People who need point of interest ( POI 's ) can put markers to important places and then share with other users.
Farmers who using tractors or harvesters like John Deere, Claas, New Holland, Case, Fendt, Valtra, Massey Ferguson or farm equipment like Horsch, Hardy, Amazone, Vaderstad, Lemken, Rau, Kuhn, Kverneland, Simba and other farm equipment are using GPS Fields Area Measure PRO in everyday tasks