Ace Force: Joint Combat 2.8.1 (Full) Apk + Mod Android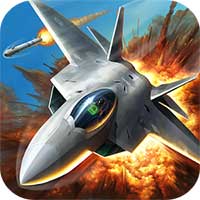 Online
ADRENALINE PUMPING AERIAL COMBAT awaits you in Ace Force: Joint Combat. Fight against the forces of the Devil Region. Dodge attacks and dominate adversaries from the world's most technologically advanced aircraft. Unleash the might of your plane's arsenal on enemy jets and light up the skies with blazing explosions.
Enjoy spectacularly detailed jets and environments as you dogfight and dive bomb your way through the most explosive aerial combat game to hit mobile.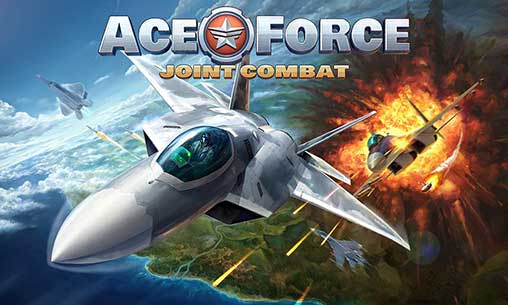 DESTROY THE ENEMY
The Devil Region has constricted the World's fuel supply and left the world defenseless. Battle to regain control of precious resource bases to upgrade your planes against enemy attacks.
PILOT DEADLY FIGHTER JETS
Wide selection of over 100 modern realistic planes, like F-22 Raptor, PAK FA T-50, Saab-JAS39, J-10 Vigorous Dragon and more. Choose your fighter to command the skies!
CREATE THE ULTIMATE WAR MACHINE
Hundreds of customization options! Upgrade your armor, engine, missiles, cannons, and technology systems to increase your power, and max out your war machines with classified blueprints.
ADRENALINE INTENSIVE FIGHTS
Modern air combat has never felt so realistic! Enjoy explosive, HD graphics as you progress through breathtaking regions! Shred your enemies and engage in high-speed acrobatics and dizzying 1 VS 1 encounters, and 2 VS 2 competitions. Complete quick time events to barrel roll and escape enemy fire.
TEAM UP AND JOINT COMBAT FOR GLORY
You're not fight alone. Clan with friends, build your exclusive team and win team glory on the global leaderboard. Honor above all else. Lead your team win through all the league championship.
Take to the heavens, Pilot and protect the world. Destroy the Devil Region's enemy jets and dominate the skies! Download Ace Force: Joint Combat, today.
We will update and improve Ace Force: Joint Combat constantly.
Please give us positive rate and feedback for further improvement of the sky combat experience.
Visit our official site at http://www.tminutes.com
Like us on Facebook: http://www.facebook.com/AFJointCombat
Customer service: [email protected]
WHAT'S NEW
1. 5 new planes package available for purchase for a limited time: Class C MiG-23M Flogger, Class B: F-14D Tomcat, Class S: F-35C Skram II, Class S: Su-75 Checkmate, J- 20S Double Dragon, J-35 Neptune.
2. The new battle pass S7 will be available on May 1. Let's celebrate the 6th anniversary together, and experience the featured planes for free for a limited time.
3. The Ace Championship event is added, and the challenge will start after the opening of the new battle pass.
Setup:
"APK" install it on your device.
Enter the game.