Galaxy Wars 1.0.28 Apk for Android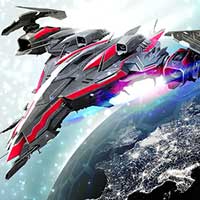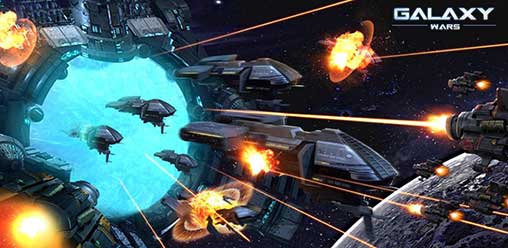 In the search of resources, humanity was forced to search galaxies throughout the universe to find an exoplanet capable of supporting human life. After traveling through hundreds of star systems and with little fuel remaining, humanity finally found a suitable planet, Planet Eden.
Humanity sent its elite forces – Marine Warriors – to scout and colonize Eden. But what was thought to be a perfect place had a hidden secret.
An advanced alien civilization, known as The Ancients, initially colonized Eden. The Ancients created a biological weapon called The Swarm – a powerful weapon of mass destruction. During an interstellar conflict, the Ancients lost control over the Swarm and abandoned the planet, leaving the hidden danger behind on Planet Eden. Any warning signs were thought to be only legends, and humanity rushed to colonize the planet.
When the Swarm finally emerged, their devastating attack destroyed or stranded most of the Marine Warriors. What appeared to be a promising and prosperous planet became a dangerous battleground. With no other options, humanity must battle the Swarm for control of Eden to build a new home for our species.
Humanity awaits a hero who can lead them to rebuild our once-prosperous civilization. Are you that Legendary Commander? Are you smart and determined enough to be spearhead of the humankind?
Are you ready? Come be that hero! Join the conflict!
* "Galaxy Wars" is a massive multi-player SLG and PvP online game where players battle on an alien exoplanet.
As a Commander, you must defend your base from the Swarm, ally with other human forces and build your own empire. Only strong Commanders can survive on this ruthless planet.
Game Features
* Battle, chat and interact with players from around the world. Galaxy Wars provides real-time translation. You will meet players from around the globe and enjoy barrier-free communication with them.
* Recruit your own team of officers. These elite warriors enhance your production and combat power. You can capture enemy officers and even shock or execute them. Their fate is in your hands.
* Join or build a star alliance and recruit and fight alongside players from around the world. Lead your powerful alliance to defeat enemies and plunder resources!
* Exciting PvP battle system. Will you engage in alliance warfare, fight to rule the Eden, or fight for yourself? Join the conflict and test your strategies!
* Use futuristic weapons and abilities including laser cannons, energy weapons, battle mechs, base jumps and even ancient science and technology.
How to Play
You will save a struggling human base from a Swarm attack and become and become its new Commander. Develop your base, upgrade your buildings and research technology. Train a powerful fleet of warships and plunder resources from other players, or collect resources found on the planet. Join an alliance for protection, assistance and to engage in massive PVP battles. Buy gift packs or complete tasks to earn items and rewards. Circumstances in battles and in-game tasks can change quickly, so items will be incredibly helpful to your survival!
Language Support: English, Russian, Simplified Chinese, Traditional Chinese, Portuguese, German, Spanish, Korean,Thai,Indonesian,Turkish,Arabic.
Facebook: https://www.facebook.com/Galaxy-Wars-449701381905343/
Twitter: https://twitter.com/GalaxyWars1
Instagram: https://www.instagram.com/galaxywars1/
Customer Service:[email protected]
WHAT'S NEW
Dear Commander:
Bug Fixes:
Fix fatal bugs cause crashes
Primary Update Features:
1.Brand New Basement
2.Brand New User Interface
Develop Team