Strategy – Galaxy glow defense 1.1.5 Apk + Mod for Android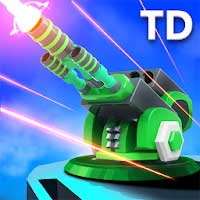 Free Shopping
Offline
In the vast universe, the creatures are born after the big bang. The battle of existence takes place all over the galaxy. In the dark universe, self-glowing creatures is attacking other creatures that dominate the universe. Strategy_Galaxy glow defense is the fight against the invasion of those glowing creatures. These creatures use natural light and use data to move in the space. Radiation creates a very nice light in the dark universe. Strategy – Galaxy glow defense is a tactical defense game with new tactics which engages players to the wonderful world. With Strategy – Galaxy glow defense, players will experience a new defense game. Galaxy glow defense still retains characters of the classic defense game genre. So Tower defense location is an important strategy of the game. The difference in this game with other defense games is that the enemy's attack strategy comes from all directions.
– To think carefully and to select the right defense tower, routes, special weapons and to plan in defensive strategy.
– To collect resources to buy and upgrade your weapons
Enjoy yourself in the nice graphics and wonderful sound of Strategy – Galaxy glow defense game.
+ a lot of enemies.
+ 3 modes: normal, difficult, very difficult
+ a lot of weapons, Large upgrade system.
Strategic defense system:
+ L-R(Landmine-Radiant): Radiant landmine destroys large numbers of enemy troops in a large area.
+ B-R(Bombes – Radiant): Bombs emit radiant energy to destroy enemies.
+ I-R(Ice-Radiant): Weapons emit radiant energy to paralyze enemies in a certain time.
+ U/G(UFO-to-Ground): An unidentified flying object attacks enemies.
+ R-FD(Radiant Flame Destroy): Radiant Flame destroys all creatures as they pass.
+ RNA(Radiant-Nuclear artillery): Weapon with thermal radiation bullets kills large numbers of enemies. It is not limited to attack range.
+ RWR(Radiant Wheel reaper): Radiant Wheels attacks the enemy.
+ 2B(Bomb Bigbang): Bigbang Bomb with large power threaten enemies.
WHAT'S NEW
– Bug fixes