Empire Warriors TD Premium 2.1.2 Apk + Mod (Unlocked) for Android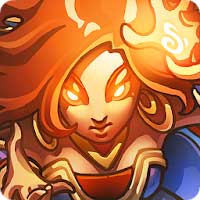 Offline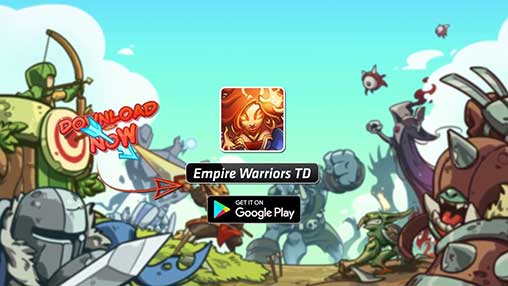 What do you get in Premium Bundle?
★ Hero Miria
★ 1500 gems
★ 300 crystals
★ 6 runes 4*
★ 50 VIP coins
Are you a fan of tower defense and real-time strategy games? If so, Empire Warriors TD Premium is the defense game that you've always been finding. You'll be blown away by the amazing of graphics 2D, which combines role playing game features and fighting game to bring to you epic challenges and funny moments.
▶ FANTASY STORY
The tower defense game is set on a fantasy continent, which is named Ioria. There are many races live together on this continent, including human, elves, dwarves, orc… and many other legends creatures.
Each land you come, each battle you join, each castle you build has a history behind it. Do you wonder what the story is? Join and find out now!!!
▶ TOWER DEFENSE GAME IN A MAGICAL FANTASY WORLD
Will you have enough courage to take into this greatest empire with the galaxy of weapons, magic things and so on? Let enjoy a lot of epic wars in different fantasy environment: the plain of human, dense forests of elves, the mountain kingdom of dwarves, the dead swamp, frozen mountain, and many more!
▶ PLAN, BUILD AND DEFEND
Perform your best strategy and fortify your leagues in each mission with 4 new specialized castles: Barack tower trains strong warriors that, led by the brave knights of Endia to help you block the path and destroy the enemies; Archer tower deals physical damage and bring useful buffs to nearby towers; Magic tower, control by best wizards of Endia, has high magic damage, ability to debuff the enemies and summon awesome dragon; last but not least, Golem tower, the mighty weapon of Endia kingdom, which can throw giant rock to the enemies and deal massive damage.
▶ ENHANCED AND VARIED GAMEPLAY 
Various modes of gameplay in one tower defense game from easiest to hardest, besides the campaign missions, the player also can enjoy the infinite challenges in endless mode. Not only that, offline option combines with online will bring to you the great experience. Let's show the world who is the best tactician by ranking yourself top one on the leaderboard. The endless mode is also a very good one to farm gems and to be a legend in epic battle.
▶ ENDLESS ACTION TACTICAL RPG
Control mighty legend heroes: now you can select and control 3 heroes at a time in any mission! Each hero has an active ability and 3 passive abilities. By upgrading heroes, their strength will increase greatly.
▶ FORMIDABLE CHALLENGES
A variety of monster with an infinite rush in the tower defense game: more than 30 types of enemies are waiting for you. Each monster has a unique appearance and some even have abilities that may cause a lot of trouble to every tactician.
Learn about your enemies and your towers with an in-game encyclopedia. Be ready for to defense in the best strategy TD game.
No fear of death! Be a wise leader and join now!
WHAT'S NEW
– NEW HERO: Federyc (Dragoon leader) is joining the battlefield
– Federyc – Prelaunch event
– Federyc – Launch event
– Ra mắt anh hùng mới: FEDERYC – Thủ lĩnh Long kỵ binh.
– Cập nhật phiên bản mới nhất để nhận nhiều ưu đãi.
Mod 3:
Mod 4:
2- RAISING A HERO COSTS ZERO GEMS
3-FOR KILLING A LARGE NUMBER OF COINS
4- DURING THE BATTLE, THE REWARD FOR GEMS IS 50 M (IF THIS CAN REDUCE TOO MUCH)
5 RUNES – ZERO KEYS (WE SPEND 10 KEYS AND THE RUNES YOU HAVE ARE FREE)
6-SELL RUNES WE GET CRYSTALS
7-AMPLIFIERS COST ZERO GEMS (POWER-AP)
8-VIP-7 INCLUDED
9- MY UPDATES WILL BRING YOU A LOT OF CRYSTALS