Apple Knight: Action Platformer 1.7.4 Apk + Mod (Unlocked/Money) Android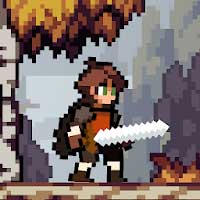 Offline
Apple Knight is a one of a kind action-adventure platformer game. Explore beautiful hand-crafted levels, fight the evil king's army, upgrade weapons and reclaim your kingdom!
★ FIGHT your way through hordes of evil wizards, knights and creatures!
Defeat enemies with your melee weapon and ranged ability. Or use various traps spread throughout the level!
★ EMBARK on an exciting adventure spanning multiple worlds!
Each level is hand crafted and unique in its layout. There will be a new obstacle or enemy type in each level for you to discover and overcome!
★ ACQUIRE powerful new weapons and abilities!
Find weapon and ability crates in various levels – and then equip them to upgrade your character.
★ EMERGE victorious and restore peace in your kingdom!
The kingdom is depending on you.
Features:
★ Multiple worlds and levels.
★ Collect gold and buy better weapons and abilities.
★ Explore secret areas in every level.
★ Beautiful graphics.
★ Controller support.
★ Lots of enemies and obstacles.
★ Made with lots of love and care!
More levels and features are being added every week! If you have any feature requests, please leave us a comment – we'll definitely consider it.
WHAT'S NEW
1.7.4 to 1.7.1:
Dash button: A new way of moving around in the world!
New Character: Monster Tamer with pet Bat Monster!
Added 2 new music tracks.
New Ability: Mystic Fireball (cast the fireball in any angle, not just horizontally!)
1.7.0:
New Weapon: Wind God's Hammer (allows triple-jumping – an extra jump while airborne!)
Setup (
Note

):

SAI (Split APKs Installer) is an app that lets you install multiple APKs as if it was a single package. This is useful for installing apps that are distributed as App Bundles since Android provides no built-in way to install them from sources other than Google Play.

How to use SAI?
Click "Pick APKs" button and select base APK as well as additional configuration-specific APKs then click "Select" button to start installation process.