Wave Live Wallpapers Maker 3D MOD APK 6.0.79 (Premium)
Join over 10 million people already enjoying this personalization app! Jump in to experience stunning, cool wallpapers and be part of the community.
You are different! Why wouldn't your device be?
Wave Live Wallpapers HD & 3D Wallpaper Maker unfolds an exciting collection of live wallpapers that will help you personalize your smartphone's look. We think it's pretty cool to use products that reflect your personality, like a custom 3D wallpaper.
Pick your fav' 3D wallpaper, and watch it boost your mood! Whether it's a wolf wallpaper, a tech wallpaper, a funny animated character… you name it. We have it!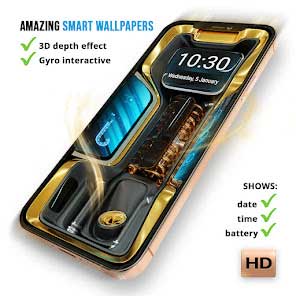 You can download cool wallpapers from our pocket art of premium designs for free. Or use the live wallpaper maker to create your own. Our library includes a wide range of moving wallpapers and photos to delight a diversity of tastes through themes like:
✅Nature Wallpapers
✅Animals Wallpapers
✅Art Wallpapers
✅Satisfying Wallpapers
✅Love Wallpapers
✅Cyberpunk Wallpapers
✅Tech Wallpapers
✅Fantasy Wallpapers
✅Animated Wallpapers
✅and much more in-app
We have loads of free wallpapers for anyone looking to give a fun twist to their smartphone background. Our free library is always updated with new cool wallpapers to customize your phone look. And your creativity can go crazy with our live wallpaper maker and weekly themed challenges!
Moving wallpapers with different effects
We create various visual concepts as the basis for our cool wallpapers:
– Parallax 2D: changes the viewpoint to your display, so you can see your wallpaper move on a 2 layers depth
– Parallax 3D: with up to 4 graphic layers for the background creates a wow 3D effect
– Watch wallpaper: stylish backgrounds show you the time and battery life
– Live 3D interactive: they react on touch or double-tap
– Video wallpaper: amazing video footage and special 3D effects as moving wallpapers
All free wallpapers meet our high-quality and high-definition (HD, Full HD, 4K) demands. Each wallpaper will perfectly fit any phone resolution.
How to use the Wave Live Wallpapers HD app:
– Open our cool wallpapers app
– Select an animated background / Use the search bar
– Unlock wallpapers (with GEMS you get for free watching ads or you buy them in our shop)
– Optional: add overlay or touch effects to style the moving wallpapers
– Apply the live wallpaper HD
– Use My Studio live wallpaper maker to create your designs
– Find all your cool wallpapers in My Studio My Wallpapers
– Creating an account is optional, but it offers the best experience with Wave Live Wallpapers HD & 3D Wallpaper Maker app (your backgrounds are saved if you change your phone or uninstall the app)
Custom home screen and lock screen
Pick a 3D wallpaper or a video background to customize the home screen and lock screen, or just the home screen. Some manufacturers won't allow you to customize the lock screen with a live wallpaper. Please check your device compatibility.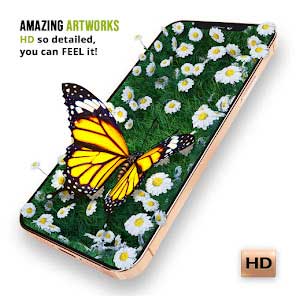 Live wallpaper maker in My Studio
Want to make your own AI or 3D wallpaper yourself? Maybe you create cute moving wallpapers for your peeps. Or discover you have a talent for this and become a top artist:
– Use the live wallpaper maker to create your own animated wallpapers: image, parallax, 3D photo, boomerang, video, slideshow or AI art.
– Try your ideas and elevate your creativity with AI generated art
– Share your wallpapers with our community and your friends
Battery optimized
Our live wallpapers app is optimized for battery life. Video rendering is paused while an app is running or the screen is closed.
Remove ads
We aim to delight our community with cool live wallpapers daily. Our free wallpaper app is for everyone. Subscribe to Premium to enjoy an ad-free experience and support us.
Support
We always seek to improve our wallpapers app, so any thoughts are welcome via the feedback form.
Through our app, we empower you to make your phone as wavesome as you.
Create your custom Live Wallpapers. Choose between Video Wallpaper, Picture Slideshows and Parallax.
SHARE them to your friends!