Rude Racers MOD APK 4.1.9 (Unlimited Fuel] Android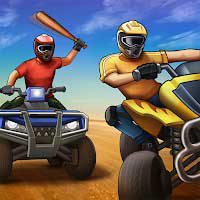 Current Version: 4.1.9

File size: 59 MB | 61 MB

Memorize:

www.ReXdl.com
Offline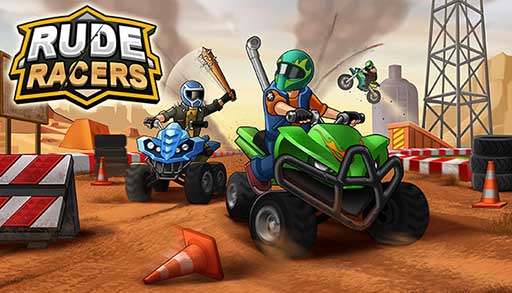 They're fast, they're mean and they never race clean! They are Rude Racers!
Rude Racers is a fast and furious bike racing game inspired by Road Rash with super fun gameplay that is easy to grasp and always challenging!
The innovative gameplay, simple and balanced driving system and satisfyingly fun combat mechanics of the game deliver the thrill and adrenaline rush of old school combat-racing.
There is plenty of crazy action to experience over 5 detailed Seasons with an immense variety of competitions and challenges, loads of beautifully designed bikes, extreme weapons and crazy riders!
SEASONS
The single-player campaign of Rude Racers is long and demanding with lots of fast racing, intense rivalries and non-stop combat! Spread out over 5 Seasons, there are more than 50 exciting events that offer a variety of challenges ranging from quick point-to-point sprints and elimination races to the bone-crunching action of the death matches and nail-biting finishes of the Outrun events!
SPECIAL EVENTS
Rude Racers is more than just reaching the finish line and beating your opponents to a pulp! Each season introduces innovative and unique challenges that will put your skills to the ultimate test.
Take out the pizza-delivery bikes in Pizza Panic, recover your bike from the Police Truck in the Recovery events, dodge the oncoming oil barrels in the Exploder series or teach the nasty bullies with their supercharged bikes a lesson in the Hunter events!
BOSS MATCHES AND SPECIAL KITS
With tougher opponents and more demanding races, you need to upgrade to faster bikes that have better armor and handling. The Final event of any Season is the best way to overthrow the top competitor and get control of their unique bike. These concept bikes cannot be purchased with Cash and will ensure that you stand out in the crowd!
Before each event, you can also pick up some crazy power-ups for your bike—get that extra bit of speed on overtaking manoeuvres with Boost Packs, increase your armor with Shields or spill some oil in the path of trailing opponents to send them sliding into a wall!
The tremendous variety in types of opponent racers is perhaps the biggest strength of Rude Racers. Rival racers with their cutting edge AI, are always aware of their surroundings and objectives and will behave differently based on the situation which enhances the replay-value of the events.
From skilled no-nonsense racers to heavy-handed lunatics who'd try to hurt you no matter the cost, every racer has a very real personality.
LIVEWIRE
As your expertise grows in the fine art of reckless street racing, you can enter special weekly events in the online LiveWire series.The LiveWire events offer spectacular new events and exclusive bikes, riders, weapons and tracks! Featuring everything from Halloween costumes to festive bikes on Christmas, LiveWire is the most happening spot in Rude Racers!
Post your best time to the global leaderboard and the top users at the end of each round will be featured inside the game!
QUICKPLAY
Whether you're looking for some quick and fiery action for a few minutes or are just low on Cash but itching to test-drive the new bike you just unlocked—the Quickplay mode will always keep things fresh, exciting and extra-challenging! Play a randomly generated event with a set bike, weapon and power-ups and experience Rude Racers at its unadulterated best!
Check out this extreme-rules game and prepare to smash, crash and step on the gas in this crazy carnival of speed!
Rude Racers is finally going live globally on the Play Store! Install now and experience the craziest and most outrageously fun action-racing ever seen on mobile!