PTorrent Pro – Torrent Client 1.2.5 Apk for Android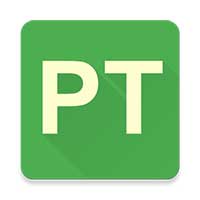 PTorrent Pro – Torrent Client 1.2.5
Apk for Android
PTorrent Pro is a simple and beautiful (P2P) torrent downloader for Android devices.
Use the torrent downloader to download big files to your phone or tablet. Share videos, mp3, photos.
*** PLEASE NOTE: Apps that cause users to download or install applications from unknown sources outside of Google Play are prohibited, Hence we had to take third party search plugin out of the app from Google Play to remain listed in the App Store ***
Please check our website https://www.google.com/url?q=https://github.com/pixeltech42/PTorrent for more info
[Prefer downloading magnet links wherever possible]
Features:
– Create Torrents (To share file or folder in few clicks!)
– Generate magnet links of any torrent and share it using instant messaging
– Unlimited download and upload Speed
– Encryption of data to/from peers
– Support for SSL Torrents
– Automatic download of the torrents published in RSS Feeds
– Partial download supported (choose what file to download from a torrent)
– Sequential downloading mode (Play media files even when it is being downloaded)
– Can be set to work on Wifi only mode, Wifi or WiMAX mode, or any Connection (example 2G, 3G, 4G)
– Magnet link support, tracker less (DHT) support
– NAT-PMP and UPnP support
– Proxy (SOCKS, HTTP) support
– Support files sizes more than 4GB
– Watch incoming directories for torrent files to download them automatically
– Move completed torrents to pre-configured directory
– Notification of completed torrents
– Shutdown App after download.
– Shutdown App on low battery
Upcoming Features:
– Rate limits on individual torrents
Please provide reasons if you give less than 5 star rating. This will help us to improve.
Team PixelTech
WHAT'S NEW
New in version 1.2.5
– Fixed a crash issue
v1.2.4
– Implemented Material Design