Omni Swipe – Small and Quick 2.27 Apk Mod Android
Omni Swipe – Small and Quick 2.27
Apk Mod Android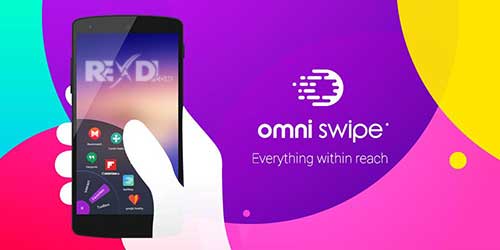 Free direct download last version Omni Swipe – Small and Quick Apk Android from Rexdl. Omni Swipe allows convenient access to your favorite apps, contacts, settings, and incoming notifications using just one hand.
Google Play editors have described Omni Swipe as "the @ContainerStore for our @Android" on Twitter (https://twitter.com/GooglePlay/status/614524794285989888). Aw shucks, thanks, Google!
To use, just swipe from your screen's bottom left or right corner on any screen to instantly open a customizable radial menu that keeps what's important and most useful to you always within a thumb's reach. Unlike other accessibility tools, Omni Swipe stays hidden and out of your way until you swipe it into view to use it.
FEATURES
★ Unobtrusive: Omni Swipe only appears when you want it to, and disappears when you're done, never covering or cluttering up your beautiful desktop.
★ Intelligent: Omni Swipe cleverly anticipates and organizes your apps based upon importance and your past usage behavior.
★ Interact: Get your latest notifications without having to swipe down the notification bar, and keep your most important contacts as well as their various contact methods convenient.
★ Lightweight: Omni Swipe is small at just 1MB+ large, and optimized to provide a clean and smooth user experience.
★ Favorites: Add and arrange up to 9 of your favorite apps to always be within your reach.
★ Toolbox: Customize which commonly-used shortcuts and switches can also be accessed with a single swipe. Easily switch on/off your flashlight, wifi, rotation lock or adjust your screen's brightness. Keep your Android fast and responsive with the memory-cleaning speed-boosting "Booster" tool!
★ Themes: Omni Swipe includes a variety of colorful themes to match your desktop or personality, with exciting new themes coming soon!
Special thanks to the following users for helping us with translations and localizations:
Vince, Eduard Vrhovec, Iksa Tawfiq Hourani, Hakan Güven, Atakan Yıldız Eric Farias, Adrian Kowaliński, Dương Vũ Trúc, Nguyễn Minh Thành, Hamidreza Rashed Saiedi, Tadej Kobal, Szabó Zsolt, Ігор Бурак, Konstantinos Mpellas, Aleksandrs Plitniks, Aryan Farooqi, Small TarZan, Dušan Hlaváč, Regi Kabaka, Muhamad Fakhri, Tsega Kassaye, Patrick Ilse, Elroy Groen, Small TarZan, Georgi Vasilev
Get in touch if you'd like to contribute a translation!
Special thanks to Daniel Nathan Poole for sharing his creative idea of The Lucky Clover theme with us!
TELL US WHAT YOU THINK
Our Facebook Page: https://www.facebook.com/holaverse
We value our users' feedback! Whether it's a bug report, a complaint, a concern, a suggestion, a rave review, or a profession of your undying love, please let us know because it either helps us improve Omni Swipe or it gives us the warm fuzzy feelings we live for! 🙂
Ad Support: https://m.facebook.com/ads/ad_choices
WHAT'S NEW
If you like our app, please give us ↑ ★ ★ ★ ★ ★ ↑.
NEW FEATURES
A pot of gold, for v2.26
1. Optimized your screen shot to better capture that leprechaun!
2. I spy a four leaf clover! Lucky me, my Omni themes is full of shamrock for me to pick from!
3. No more gold coins and data missing from your pot!