Neutron Music Player MOD APK 2.22.2 (Full Version) Android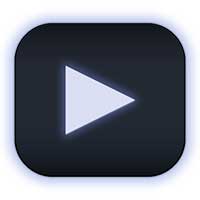 Current Version: 2.22.2

File size: 32 MB | 30 MB

Memorize:

www.ReXdl.com
Arm & Arm64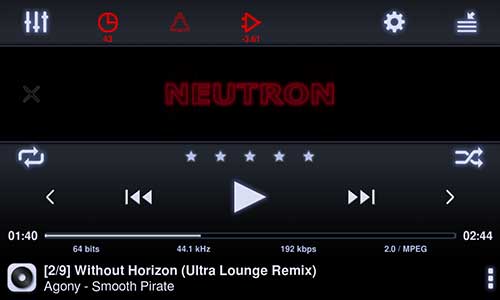 Neutron is the professional music player with a high quality 32/64-bit audio rendering engine which delivers the best possible Hi-Fi grade quality of sound on Android device.
The reliable, platform independent, native core provides consistent behavior on all devices. Carefully developed DSP effects such as Parametric or Graphic EQ, Surround Sound, Crossfeeder, Crossfader, Tempo, Pitch and others, help to tune audio to a desired result.
Neutron can source music files from device or network sources such as SMB/CIFS, UPnP/DLNA, FTP, WebDAV and send audio either to headphones, or directly to USB DAC or to UPnP/DLNA renderer without a format limitation!
Neutron is developed for audiophiles and those who really in love with music. Consider using Hi-Fi/Hi-End audio hardware for the best result.
Get used to Neutron and have full control over your media library and sound!
FEATURES
* 32/64-bit audio processing (high quality HD audio).
* OS and platform independent decoding and audio processing.
* Bit-perfect playback.
* Audio formats: MP1, MP2, MP3, OGG (Vorbis), FLAC, OPUS, WMA, WMA Lossless (16-bit), AC3, AAC, M4A, M4B, M4R, MP4, 3GP, 3G2, MOV, ALAC, APE (Monkey's Audio), WV (WavPack), MPC (MusePack), WAV, AU, AIFF, MPG/MPEG (audio), AVI (audio), iTunes/Windows Media (non DRM).
* DSD decoding (requires fast CPU, minimally DSD64).
* DOP (DSD over PCM), DXD.
* Module music formats: MOD, IM, XM, S3M.
* Voice audio format: SPEEX.
* Playlists: CUE, M3U, PLS, ASX, RAM, XSPF, WPL.
* Lyrics (.LRC files, metadata).
* Streaming audio (plays Internet radio streams).
* Supports large media libraries.
* Network music sources:
– SMB/CIFS network device (NAS or PC, Samba shares);
– UPnP/DLNA media server;
– FTP server;
– WebDAV server.
* Output to UPnP/DLNA media renderers (up to 24-bit, 384 kHz);
* Direct output to USB DAC without format limitation (via USB OTG adapter, up to 32-bit, 768 kHz).
* 32-bit output on Android 5+.
* Device local music library management via internal FTP server.
* Parametric Equalizer (4-20 band, fully configurable: type, frequency, Q, gain).
* Graphic EQ mode with 21 common presets.
* Surround Sound (Ambiophonic R.A.C.E.).
* Crossfeed (better stereo sound perception in headphones).
* Time Delay (loudspeaker time alignment).
* Dithering (minimize quantization).
* Pitch, Tempo (playback speed and pitch correction).
* Speaker overloading protection filters: Subsonic, Ultrasonic.
* Normalization by Peak, RMS (Preamp gain calculation after DSP effects).
* Replay Gain from metadata.
* Gapless playback.
* Hardware and Preamp volume controls.
* Crossfade.
* Phase inversion.
* High quality real-time optional resampling (Quality and Audiophile modes).
* Real-time Spectrum and RMS analyzers.
* Balance.
* Mono mode.
* Playback modes: shuffle, looped, single track, queue.
* Playlist management.
* Media library grouping by: album, artist, composer, genre, year, rating, folder.
* Artist grouping by 'Album Artist' category.
* Folder mode.
* Clock mode.
* Timers: sleep, wake.
* Interface languages: Русский, 中文 (繁体), 中文 (简体), 한국어, 日本語, Việt, ไทย, Deutsch, Italiano, Français, English, Español, ελληνικά, Português, Magyar, Polski, العربية, Türk.
* Optimized for: ARMv7 VFP/NEON, ARMv8 NEON, x86 SSE2.
NOTE
NEON optimized APK for 32-bit ARMv7 CPUs (>25% faster, not required for 64-bit ARMv8 CPUs):
http://neutronmp.com/downloads
Try evaluation version before buying (5 days trial period):
http://play.google.com/store/apps/details?id=com.neutroncode.mpeval
SUPPORT
Neutron is under active development!
Technical support e-mail:
[email protected]
Forum:
http://neutronmp.com/forum
BUGS
Please report bugs directly by e-mail or via forum and provide usage example which will help to fix the problem as soon as possible. Your kind patience, help and participation are highly appreciated!
NOTES
* DLNA® is trademark of the Digital Living Network Alliance.
WHAT'S NEW
* New:
– time label on Queue entry: to show total time of all tracks in the Queue
! Fixed:
– streaming to Chromecast Audio devices with latest firmware (1.56.281627+)
– looping of the first track in the Queue when more tracks were enqueued after the first one and Loop Track List is On