iShredder 4 Professional 4.0.14 Apk for Android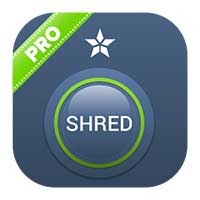 iShredder 4 Professional 4.0.14
Apk for Android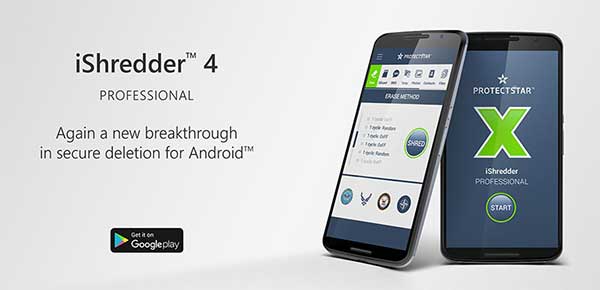 ★★★★★ Wipe and secure erase the freespace of your device.
★★★★★ iShredder is the best and most popular data eraser app worldwide.
★★★★★ ProtectStar™ the world leader in secure deletion of mobile devices
★★★★★ ProtectStar™ apps are preferred by more than 1.000,000 users in 123 countries.
With military grade security, wipe and sanitize unwanted files on Android™ devices with ease.
iShredder is the best and most popular data eraser app which securely deletes files leaving them irrecoverable. This tool erases your data completely and protects falling into malicious hands.
You'll want to destroy all the files on it first – without a trace with military grade security.
Before you sell or give away your device, you'll need to make sure that all your personal files on the device have been blitzed beyond recovery. It's easy to restore supposedly deleted files from the memory on mobile devices these days. files containing notes, passwords, address book, photos, videos, calendars, bookmarks and more.
Deletion without trace in three easy steps:
================================
You might think you've deleted those photos and videos on your mobile device, but anyone can restore those manually deleted files from the free space on your device until the free space itself has been overwritten using secure deletion algorithms.
It takes just three simple steps to overwrite that free space using patented security standards, making it impossible to rescue any deleted files.
First, open iShredder™
Second, select a secure deletion algorithm
Third, start the deletion process
iShredder™ surpasses international standards used by state and military organisations in secure file deletion with a wide selection of tried-and-trusted state-of-the-art deletion algorithms. Each algorithm has been analysed by authorities and independent organisations to make sure it really does what it says on the tin – data destruction beyond redemption.
Depending on the edition, the iShredder™ package comes with deletion algorithms such as DoD 5220.22-M E, US Air Force (AFSSI-5020), US Army AR380-19, DoD 5220.22-M ECE, BSI/VS-ITR TL-03423 Standard, BSI-VS-2011, NATO Standard, Gutmann, HMG InfoSec No.5, DoD 5220.22 SSD and others.
Features:
=======
– secure wipe of free disk space
– secure erase of photos and contacts
– secure erase of files and folders
– 5 erasing methods included, such as DoD 5220.22-M E, US Army AR380-19, HMG InfoSec No.5, etc.
– High security erasing methods included, such as DoD 5220.22-M E for SSD, Gutmann, ProtectStar SDA and more.
– modern and secure erasing methods for flash memory (SSD)
– technical support by e-Mail
NOTE:
– If you erase photos, contacts or files, iShredder will securely wipe them and afterwards it runs a complete erasing of the free space. Please be patient and wait until the progress is finished. This progress increase the security!
– Deleted files CANNOT be recovered
WHAT'S NEW
+ Added more SD cards support