Flashlight LED PRO 2.0.0 Apk for Android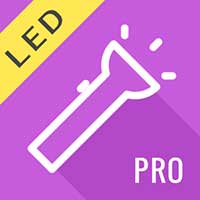 Flashlight

LED

PRO

2.0.0
Apk for Android
With our flashlight you can use your flash lighting device as if it were a flashlight. Simply press the power button.
Why use our flashlight and not another?
• It is simple and very modern style.
• The application weighs only 1MB on your device occupies less than 2MB.
• There are many customization options: choice of color, theme selection, auto power auto off, auto lock … even stopwatch!
• All new themes are included in the paid version for free.
• You can contact our support directly from the application.
• It is priced according to their quality.
• And of course no advertising.
Want to know more about the features? Here they are:
• Auto ON: with this feature turned on the flashlight will automatically be activated as soon as you click the application icon. As soon as the application loads, the flashlight is turned on. Faster impossible. Say goodbye to the widgets.
• Auto shut-off: when the timer finishes its countdown headlight will turn off, but also with this new feature the application will close automatically. Ideal for those who fall asleep and leave the mobile power.
• Automatic lock: With this feature, when you turn on your flashlight automatically lock screen is displayed. This way you will not accidentally turn off the flashlight. To unlock simply moves the key icon down to match it to the lock icon.
• Battery Viewer Controls the battery level of your device in real time. With the battery viewer you will know exactly how much battery you have left at any time and accurately.
• Timer: Sets the sleep time. When the flashlight is turned on and the timer is activated starts the countdown. The flashlight will turn off at the end of time is marked.
• Reset button: You do not like how it looks to customize? Try again, press the reset button and return to the initial configuration.
• No advertising, thanks: Say goodbye to advertising. Nothing to bother you with ads of any kind.
• Alerts Timer: When the timer nears its end and the flashlight is to be shut, our application will warn you in two different ways so you do not stay in the dark: through sound and vibration.
• Change the colors of the application: Your application, your style. Choose the color combinations that you like and customize your flashlight as you like.
• Visibility, which is this?: Applies to your flashlight color you want. Increases visibility to 100% for the solid color, reduce it to 0% to fully display the bottom. It's up to you.
If you liked not forget to rate the application and leave your comment!
WHAT'S NEW
– New smaller version, only 1 MB !!
– Optimized for Android 7.0