CnX Player – Ultra HD Enabled 4K Video Player 3.1.7 Premium Apk Android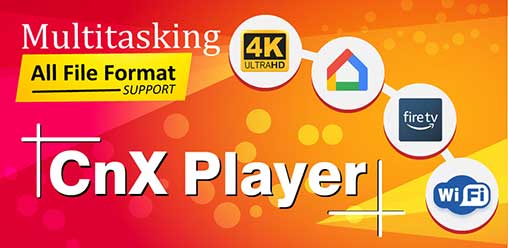 CnX Player is the Best 4K All Video Format Media player on Android Mobile and Tablet. CnX Player brings a breath taking smooth visual experience on mobile and tablet. It is also a Video casting app to cast videos to TV via ChromeCast and Amazon FireTV. CnX Player, a 4K HD Video Player is a powerful & efficient media player designed for Android Tablet & Mobile to give smooth video playback of 1080p, 4K 10-bit HDR video content.
Enjoy watching 4K movies, 4K videos with subtitles. CnX Player has very less battery consumption due to the best implementation of Hardware. Save battery while watching 4K movies or 4K videos in CnX Player. It is an all-in-one Media Player – MKV Player | TS Player | MP4 Player | Webm | XVID | AVI | FLV & more. CnX Video Player supports all video codecs (HEVC, VP9, VP8, H.264 and many more)
1. HIGH-PERFORMANCE PLAYBACK CORE: 4K Ultra HD Video Player – 2160p & Full HD 1080p video Player of H.265 aka HEVC and H.264 aka AVC and VP9/VP8.
2. 10BIT HDR VIDEO PLAYER: Highly optimized 10 bit video decoders with less battery consumption and provide good quality playback. Save battery and watch more videos.
3. FIRE TV VIDEO CASTING: High quality smooth video casting via Amazon Fire TV app to TV from Mobile or Tablet with remote control support. High powered 4K Fire TV app.
4. CHROMECAST VIDEO CASTING: ChromeCast video player app to enjoy best video streaming to TV via mobile & tablet.
5. NETWORK STREAMING / URL PLAYBACK: Play online videos including HLS, MPEG-DASH and HTTP Progressive network streams (URLs).
6. MULTITASKING: Switch to mini player screen and save your time by doing things in parallel on phone/tablet along with watching your favourite videos on the floating window on your phone/tablet. Best 4K HD Video Player on Android.
7. LONG BATTERY LIFE: HARDWARE ACCELERATION with highly optimized implementation of software video codecs leads to less battery consumption and hence long hours of viewing in HD Video Player.
8. INTUITIVE USER INTERFACE: Great ease of video access by viewing them in Folder view, Grid view and List view. Simple and easy user interface.
9. GESTURE CONTROLS: Natural, easy-to-use multiple gesture controls like volume, brightness, double tap fast forward, double tap rewind and seek make playback a breeze.
10. HIDE/SHOW VIDEOS: Choose which videos to be shown or hidden in the video gallery.
11. PLAYBACK SPEED CONTROL: 0.5x to 2x video playback experience, in case you want to learn from video or quickly watch video (no time to watch!).
12. REPEAT MODES: None, One and All.
13. WiFi MANAGEMENT: Transfer/Rename/Delete/Download videos to/from PC without wires using the Wifi Management feature.
14. COLORFUL THEMES: Experience video playback in 8 multiple color themes.
15. MULTI-LANGUAGE SUBTITLES: Internal & External downloaded subtitles in multiple languages (ASS/SSA , SRT, PGS ,SAMI, Subrip & many more ) with enhanced settings like size, colour & alignment.
16. MANAGE VIDEOS: Mange video library with editing features like rename and delete.
17. HISTORY: Maintains history of videos played. Manage history at your convenience.
18. VIDEO SEARCH: Easy access video library using sorting and search.
19. VIDEO FORMATS: MKV, MP4, 3GP, MOV, AVI, TS and many more.
20. VIDEO CODECS: VP9, VP8, H.265 (HEVC), H.264 (AVC), VC-1, MPEG-4 & MPEG-2.
21. AUDIO CODECS: AAC-LC, HE-AACv1, HE-AACv2, MP3, MP2, MP1 and Ogg Vorbis.
22. VIDEO FILTERS: Adjust video Saturation, video Contrast & video Brightness. Impressive video settings make video viewing experience even much better and makes CnX Player the best All video format 4K Video Player on Android.
23. VIDEO SCALING AKA ASPECT RATIO: Watch videos in Auto mode, Crop video or Stretch video.
24. QUICK-SWITCH VIDEO DECODER: Quick switch video decoder from hardware to software and vice-a-versa.
WHAT'S NEW
3.1.7
– Added support for Android 8.0 and above.
– Enhanced playback of 10-bit HDR content with HEVC or H.265, VP9 and H.264 or AVC codec.
– Smooth playback of 4K HDR content with HEVC & VP9.
– Streaming URL support for playback of HLS, MPEG-DASH and HTTP Progressive.
– Added Multi-language subtitles : ASS/SSA, SRT, SubRip and many more.
– Enhanced User Experience and User Interface.
– Resolved bugs and improved the stability.