War Alliance 1.53.302 (Full) Apk for Android [Latest Version]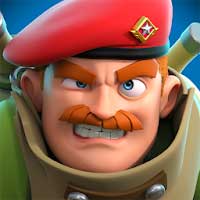 Online
War Alliance is an action-packed, real-time pvp game that turns the battle arena genre on its head, infusing MOBA-like qualities with the addition of wholly unique, fully-controllable Hero units.
Complement your hero with an ever-growing arsenal of powerful tanks, super-soldiers, serums, and much more. Collect and upgrade your battle deck, take on opponents the world over, and climb the leaderboards in War Alliance!
Features:
Fight your way to the top of the leaderboards,
​unlocking new heroes, new units, and new arenas!
Control a mighty Hero like General Ironhide, the fearless John Bow,
or the cunning Viktor von Boom, and lead them to victory.
Collect and upgrade more then 40 exciting cards. Make use of heavy tanks, superheroes, explosive drones, and much, much more.
Coming soon!
Be the leader of your own Alliance or join a team of other players worldwide.
​Chat with your teammates, trade cards, or duel with your friends.
Visit us on Facebook! https://www.facebook.com/War-Alliance-Community-567150163663842/
WHAT'S NEW
Fix localisation on some card descriptions.
Fix buff informations on some card descriptions.
Fix a case where a card could remain unusable during the match if the app lose focus while placing it.
Fix visual artefacts that could appear on some units.
Improve preloading of match content.
Increase visual space between each playable card during match.
Setup (
Note

):

SAI (Split APKs Installer) is an app that lets you install multiple APKs as if it was a single package. This is useful for installing apps that are distributed as App Bundles since Android provides no built-in way to install them from sources other than Google Play.

How to use SAI?
Click "Pick APKs" button and select base APK as well as additional configuration-specific APKs then click "Select" button to start installation process.