Video Editor Free Trim Music Pro 1.5 Apk for Android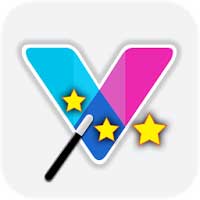 The most powerful and easy to use Video Editor! It has all the features you would ever want in a Video Editor!! Trim Videos, Merge Clips, Add Music to Video, Filters, Overlays, Gifs, Video to MP3, Slow & Fast Video Speed, Text on Video, Convert Clips … and the list of app features goes on!! Edit Videos the way you want.
App is completely FREE!! No limits!
>>>> Features <<<<
➜ Trim: Video Trimmer provides powerful video editing. Easily Trim Video from the complete movie. Also you can cut the selected clip from the movie – rest of the two parts will get automatically merged. App also supports precise movie editing in which you can input the start and end time manually. You can Preview the trimmed video you are making i.e. WYSIWYG movie editor.
➜ Merge: Easily Merge Videos in the sequence you desire. Select the clips, rearrange, preview and generate your movie clips. You can rearrange the selected movie clips the way you need. Incase you want to delete a selected clip, you can easily do that. Enjoy watching the merged movie.
➜ Add Music: Easily add music to your videos. You can add music to the complete clip or add audio in selected segment. You can select the part of the audio which you want to add. App also supports Volume control of selected Music, Volume Control of selected and Unselected part of movie clip. You can also create movie without audio like in mute.
➜ Filters: Give an edge to your clips by choosing from a range of filters. Lot of filters to choose from Sepia, Negative, Hue, Blur, Emboss, Vintage and more. You can also see a preview before generating.
➜ Gifs & Overlays: Make your movie clips really stand out with Stickers, Gifs and Overlays. Lots of overlays to choose from like Old Movie, Snow fall, Star burst, Rainfall, Bubbles, Flying Bubbles, Wind and more. Easily apply stickers or gifs. You can add multiple stickers. You can resize, rotate, set start/end position of stickers or gifs.
➜ Video To Mp3: Takes Movie editing to the next level by extracting your favourite songs and music from your movie clips. You can also choose the start and end position and generate. Your Songs or music will get generated quickly. You can choose to generate it in MP3 format or the default audio format.
➜ Video Speed Editing: Change the speed of your movie clips. You can make them fast or slow as per your liking. Speed options are available from -4 times to +4 times.
➜ Text on Video: Personalize your movie clips for various occasions like Happy Birthday, Marriage Anniversary and much more by writing Text on video. You can add multiple texts. You can also change Text Color, Text Font, Resize text, Rotate Text, start/end position etc.
➜ Compress Video: You can make the video shorter in size by compressing it. Timewise the length will remain same. This way you can save space or save network bandwidth while sharing online. Few preset options are available like Low, Medium and High Compression. You do custom compression as per your need.
➜ Convert: You can easily change the movie clips from one format to another. Formats supported are MP4, 3gp, MPEG4, m4v, mts, avi, mpg, wmv, mov, mkv, m2ts, ts. You can also change Video Codec, Frame Rate, Resolution, Bitrate. For Audio – you can change Audio Codec, Audio Bitrate, Sample Rate, Number of Channel of audio.
➜ My Creations: Your edited creations are always easily available. Editings are also categorized in various folders like Trim, Merge, Add Audio etc. This way you can quickly access the editing. Also it has inbuilt player for the clips and music within the Video editor.
➜ Easy to Use Editor: Extremely Easy to Use! Modern, Intuitive and Free Video Editor.
➜ Share Videos: Share your creations with the world on Facebook, Whatsapp, Youtube, Flipagram, Email, etc.
Start creating Viral Videos! You can also use this Free Video Editor for Youtube. A must have Video Editing app!
WHAT'S NEW
Few Improvements