Tattoo my Photo 2.0 Pro APK 3.1.12 (Full Version) for Android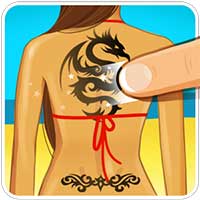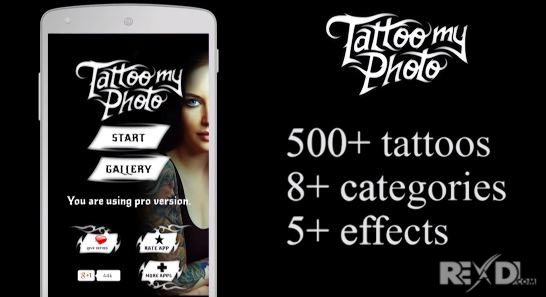 "Tattoo my Photo" app lets you try new tattoo designs, without any pain! Tattoo yourself on your own photos. Using our app you will feel like in a virtual tattooing salon or photo booth machine. Just choose a pic from gallery or take one using camera, choose the tattoo design that fits to your style, rotate, resize, save and share your effect! Let your friends think that you are really tattooed 😉
Our editing tool contains a lot of artistic tattoo ideas for kids, both girls and boys, tattoos for women and men (browse for example rose, dragon, polynesian or tribal tattoos and much more!).
Remember, making tattoos in real world is not a game, they will stay on your skin forever, so first check how it looks on our application. This is a virtual tattoo maker, that will show it for you without any pain. Also the studies have shown that tattooed women and men arouse more interest in others. But you can have this effect just from the photos, don't you? The result do not look like fake tattoo, do not worry and try.
In the new version you can also add your own text tattoo. Choose a font, type a text and it is ready! The new version allow you to see a tattoos of the day. This tats are free for this one day.
Our photo editor is mostly free, but you can also buy special tattoo pack, check it now!
How to use:
choose photo from camera or gallery,
press red button to add new tatts (choose the one you like from handy categories),
place the tattoo stencils on best place on your body. Move markers, rotate, resize and edit to best suit,
erase unwanted parts of design,
add another tatoos to your picture. Remember on the left part of the screen you can pull out the layout with layers. Choose here the element on which you want to work,
on the left side there is one more layout. Here you can change transparent of tattoo, flip, change colors and more filters,
finally save & share the result image!
in our simulator gallery you can browse your own cool body art created by you in the app.
In new version you are able to change height, width of tattoo and skew&flip it as well. Much more soon!
WHAT'S NEW:
3.1.11:
bugs fixed.
3.1.5:
small UI changes.
3.1.4:
bugs fixed,
tattoos availability changes
3.1.3:
new monetization model
3.1.2:
– bugs fixed!
3.1.1:
– new simple way to add and edit tattoo
– possible to use the old way to add and edit tattoo in "advanced window"
– bugs fixed!: en-US