T4Travel DongThap 1.0.7 (Full Latest) Apk for Android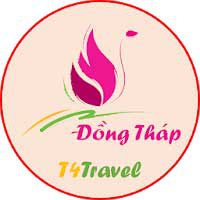 Recognizing the tourist situation in Dong Thap province, there are many difficulties in infrastructure, traffic system, monotonous and rugged tourist products, low quality of service, not many fun spots. , entertainment. At the same time, the promotion, as well as tourism propaganda is not impressive and effective yet.
According to the propaganda material "Project on development of tourism in Dong Thap province from 2015 to 2020 (attached to Official Letter No. 1803-CV / BTGTU, dated 29/05/2015 by Department of Propaganda and Training of the provincial Party Committee)". To promote the tourism development of Dong Thap Province increasingly develop and become the important economic branch of the province.
However, the promotion of tourism in the province mainly based on social networking, website, television, mobile applications, tourist maps.
Currently, walking around book supermarkets or places selling maps, travel materials, there is a lot of content that talks about the introduction of places, specialties, vehicles in Dong Thap Province or Vietnam. ; This has some inconvenience when traveling outside the province (for domestic visitors) or foreign tourists because they have to carry a book, newspaper, map or gender document. Introduction to certain places of interest.
On the other hand, with the strong development of Information Technology in general and the strong development of social networking websites, search engines in particular; Typical like Facebook and Google. When searching with the phrase "Travel Dong Thap" is quite a lot of results returned to users to choose from 2 pages Facebook and Google. The province also introduced the tourist sites on the official website: Dong Thap (dongthap.gov.vn), Dong Thap Radio and Television (thdt.vn), Dong Thap Newspaper (baodongthap. VN)…
The advertisement, introduction of tourist sites and services in the province was developed equally as a broadcasting program: Dong Thap prepared to welcome visitors, impression Dong Thap tourism at VTIM 2016 or Meeting Dong Thap Tourist Week in 2017 in Ho Chi Minh City. Sa Dec … with this type of promotion will give tourists more credible information about the introduction; However, this will cause visitors to actively update travel information from different information: television, newspapers …
In addition, some travel agents or travel agents may also hire more tour guides (inside or outside the province) to make it easier for the visitor to travel or travel. However, with this type of visitors, you have to spend a lot of money to rent or to follow the rules of the delegation, bound to lose some of the freedom inherent in a trip.
Besides a (tourist) group, they need a source of information: tourist locations must be updated: regularly, accurately; Road map; Providing places of rest, entertainment and specialty dishes, menus of restaurants … But now with tourist information of Dong Thap province is quite sparsely focused not to a certain product.
For this reason, the research and application development (Website, Mobile) support the promotion of tourism is necessary it has real meaning for Dong Thap Province and this application does not need the manual Travel, paper maps or old compass in the travel companion, which now visitors to Dong Thap Province only with the Internet-connected mobile device or Android's smartphone. I was able to travel all over Dong Thap Province.