SWAT and Zombies Season 2 1.2.2 Apk + Mod Money for Android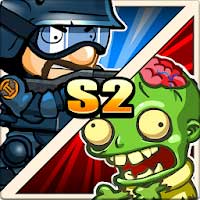 Offline
– The defense game with over 11 million downloads is back with more advanced graphics and systems!
– Kill or be killed! It's one or the other! It's the breathtaking confrontation for mankind's survival!
– Stay frosty! The tension never lets up as you move to the second half of the stage! Feel the intensity!
– Join the S.W.A.T. team and kill all the zombies. You must protect Perfectville, the last remaining safe zone.
– Shoot all the guns at an endless zombie horde! Use bombs too!
– A new defense game that offers FPS sniper mechanics with strong addictive authentic defense elements! Go and immerse yourself in this fun game!
■ Game Features ■
– Collect Weapons: Collect around 50 different types of weapons. Improve your FPS skills with them!
– Bizarre Zombies: Skateboarding, bowling, spear-wielding, fat, pink-wearing, and even dog zombies! Face all kinds of zombies!
– Challenge Hell Mode! Hell Mode Stages stimulate the desire to fight, but will be tough without upgrades! If you have the skills and confidence, try it!
– Challenge Infinite Mode! Eliminate endless zombies and challenge the world rankings! Save humanity with your friends.
– Experience our concept of a real-time battle mode! Compete with S.W.A.T. teams around the world! Check your skills through the real-time network battle!
– World Cleanup Day! Let's clean up constantly appearing zombies! Sweep away all the zombies that have conquered the planet with players around the world!
– Ultimate Weapon System: Drag your finger on the screen to target zombies with the best weapon, the sniper!
– Arena Mode : Enjoy PvP in real time with players from around the world.
– Create the Strongest S.W.A.T. Team: You can make your S.W.A.T. more and more powerful with coins and stars.
WHAT'S NEW
v1.2.2
– The name of the ad box has been modified.
v1.2.1
– Fixed a bug that booster items disappear.
v1.2.0
– A new chapter 'Hospital' has been released.
– 6 new zombies have been added.
– 'Boost Shop' has been opened.
– Added the ability to optimize and abandon the Arena.
– Arena's available units and zombies are limited by league.
– Fixed item list bug that did not change over time in 'Time Store'.