Recorder Video Instagram Pro 1.5 Apk for Android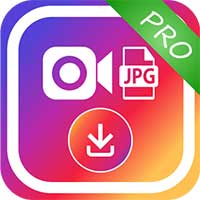 **** It is now easy to save videos and pictures from Instagram and user photos (Profile Photos)!
**** You can only enlarge, view and download your profile photo by typing in the user name correctly. And even if the account is hidden, you can do it!
** No need to log in with your account!
** It is very quick and simple to download any post, video, photo or photo to your liking while surfing the chart!
** All you need to do is to activate the easy window.
** It is fastest for you to start by simply downloading the share URL of the sender while browsing the instagram, downloading it via the easy window without leaving the 'Instagram' and continuing to be stuck in the instagram!
** Due to the speed of downloading a better intentional application and using a mb-friendly package!
WHAT'S NEW
*Köklü değişiklikler yapıldı.
*Hem internet hemde depolama alanı dostu.