QR Bar Reader Pro 1.1 Apk for Android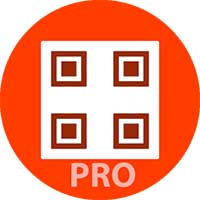 QR Bar Reader

Pro

1.1
Apk for Android
Scan, and Read Bar code ,even Data matrix , UPC-A ,UPC-E,Code 39 or 93 or 128 ,EAN-8 ,Aztec,EAN-13,Codabar,PDF 417,ITF,RSS-14,RSS-Expanded.
Just one step to scan it,
Place QR code or Bar code in center, scale the window to fit the code size in case it is a small.
Copy the text to clipboard for any application sharing.
FEATURES :
QR Code and Bar code all supported.
Fully secure QR Code Reader application.
View a history list of all of your past scans.
Option to delete history contents (One by one & Clear All).
Fast and easy scan QR codes Bar codes from CAMERA.
Check the safety of websites linked to the QR code you are scanning
Lots of other new features. You will love all those features.
Flashlight supported for scanning QR codes or Bar codes at low-light environments.
SHARE your QR CODES through: Email, SOCIAL NETWORKS (Facebook, Twitter, Clipboard, Google Plus), TEXT MESSAGES.
You can even save money with QR Code Reader! How? Use QR Code Reader to scan coupon codes (coupons) to receive discounts and save money.
QR Code Reader also allows you to scan product barcodes in shops and compare prices with online prices to save money.
HOW TO USE :
Just Open Scan option top of screen and simply point to QR or barcode you want to scan, app will automatically detect and scan it. QR code will automatically save in the history page.
Select Qr Generator feature. Chose your desire option to make QR Code. We have given multiple different options. Save or share it. That's it!!
The app is full optimization for smartphone and tablet for Android OS.