Naval Creed:Warships 1.8.3 Apk for Android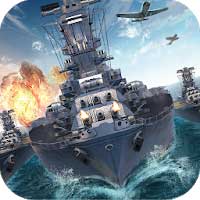 Online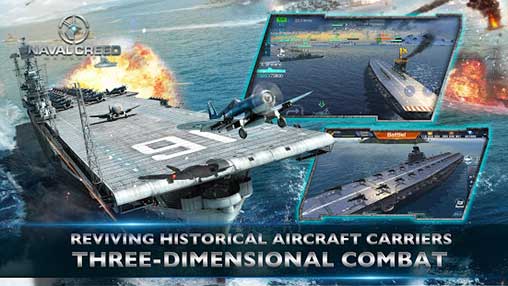 ●Description●
Naval Creed is a naval-battle-themed TPS game with 360° free perspective 3D graphics. Based on real history background, nearly 100 legendary historical warships are available on your mobile device! Classic battles as well as legendary warships will reenact once again, the only difference is your valuable participation. The war could always use more heroes, who command the whole fleet and conquer the world; the history will be rewritten!
The important thing in Naval Creed is not victory but combat;
It is not to have vanquished but to have fought well.
● Naval Creed Key Feature●
◆Realistic historical warships◆- Fantasizes genuine military zealots.
Nearly 100 legendary warships in World War II were revivified. From the main artillery to torpedoes launcher, from the deck to bottom, the game brings you special types of playing by providing diverse sights, which considerably intensifies the battles where fulfilled with wits and courage. The data of sailing, artillery and armor set of Yamato, Lexington and other battleships will be highly and accurately restored according to historical records, all these finally presents you a magnificent naval epic scene. Remember, make every unit useful, participate in more combats to discover more secrets of every inch of your vessel.
◆Reviving History◆- Every soldier carries a marshal's baton in his knapsack.
The game bases its ground on the factual history of World War II. Countless sanguinary battles in the pacific battlefield of World War II will be reproduced on your device, taking you to those blood boiling classic battles. Coral Sea, Midway and other well-known battlefields in history will be reconstructed in their original way.
◆Real-time battle:12 VS 12◆- Lone tiger or member of wolf packs, it's your choice.
The game adopts instant combat operation mode, bringing the experience of highly-intensified instant competitions, 12 vs 12 fleet instant combats: sailing, accelerating, aiming, firing, launching torpedoes, all in your control. Combat matching runs under a random matching mechanism. Victory relies on the aiming and firing, but also a wise commander – tactics is essential, even it is a game, but a realistic one after all.
◆Real Operations: Full Physical Effects◆- Easy to know, hard to master.
To make it more authentic, each projectile trajectory is separately calculated, no more"100% hit rate". And the partial damage determination is conducted to the hull model with every single part of the armor disassembled. The strategy is upgraded again: real flight trajectory, ship tonnage, draft, speed, turning radius, inertia and other physical properties are perfectly simulated, making the battle route more technical. The game has achieved the goal of "less is more.
◆Real Scenes: Panoramic Views◆- Enjoy the dawn and dust on the way of your triumph.
In order to create the most realistic naval battle experience, the game uses full 3D modeling to provide you the global view of the whole sea area. Through the application of powerful physics engines, the game has reached the level of PC games in sea rendering, hydrological dynamic simulation, surface reflection and various other aspects. Steel parts, damaged objects, barrel's rotation are all restored realistically. All of the fine settings above are designed to give players the most realistic battle experience.
●Community●
Fan Page: https://www.facebook.com/navalcreed
Customer Service: [email protected]
WHAT'S NEW