Maskgun Multiplayer FPS 2.330 Apk + Mod (Unlocked) for Android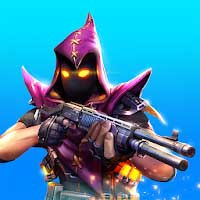 Online
MaskGun is a casual real-time Multiplayer First Person Shooter built for Touch.
Cross-platform 3D Multiplayer FPS game for IOS and Android with a new realtime presence system allows you play with your friends by joining them in a game.
Three Game modes – DeathMatch, Team DeathMatch and Bomb Defusal Mode.
Three Arena Maps – Yard, GhostTown and Factory.
Mask – Express yourself using Masks
Gun – Choose between 16 Primary Weapons or Three Secondary Weapons
Armor – Custom Armor choices
Patterns and Decals – Customize Guns and Armor
Features
**********************************
– Free to Play as much as you want, no energy system
– Realtime Friends Presence system
– New Loadout to customize Gun, Armors and Masks with Patterns and Decals
– Three new Modes including DeathMatch, Team Death Match and Bomb Defusal
– Three new Maps including Yard, Ghosttown and Factory
– Complete Missions to Level Up
– Party Mode Up with friends.
– New Game Modes and Maps coming soon
Awards for MaskGun
**********************************
NGDC Studio Game of the Year 2016
Praise for MaskGun
**********************************
"One game that I saw that is going to do exceptionally well in our community and in the App Store, is MaskGun" – Eli Hodapp, Editor – TouchArcade, Podcast
"I quite like the first person shooter with the Masks. That was my favorite Game. It seemed so slick and so well done. " –PocketGamer PodCast
Custom Game Engine
**********************************
Game now plays well with all Devices including devices with smaller app size and memory footprint.
Metal support and better Battery consumption
Watch the preview video now to see real gameplay of 5-vs-5 multiplayer battles.
(Yeah, it really looks like the screenshots.)
Feedback
**********************************
Thanks for your awesome response and feedback.
Keep those comments coming and send us an email to feedback@maskgun.com
WHAT'S NEW
ARMOR SYSTEM OVERHAUL!
You can now upgrade 3 types of armors: Mask, Vest and Pants.
The 3 armor types share the same booster, which is applied on the total armor value provided by them.
• "Masks" provide armor and head shot damage reduction.
• The "Vest" provides a large amount of armor.
• "Pants" provide armor and leg damage reduction.
MORE REWARDS
• You can now collect 5 grenades and 5 med kits every 10 minutes on the home screen.
• You can now double your weekly rewards.