Lock Gallery Stealth 1.0 Apk for Android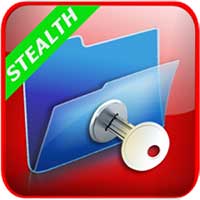 Lock Gallery Pro is an excellent app for hiding your important images and videos. It has so many features that you don't find in any other App.
Features:
————–
• Hide Photos & Videos
• Custom Folders
• Attractive UI
• Stealth Mode supported (a feature to hide the launch icon)
• Watchdog: After 3rd failed password attempt, a SIREN would be blown
• Share pictures from the locked folders to any applications
• Cloud Backup supported to Google Drive, Dropbox, etc
• Zoom features for the pictures
• Slide Show supported
• Mp3 background music playing supported while slide show
• Easy-to-use PIN
• Even if you forget your PIN, there is no problem at all, we can send your PIN to your mail id provided in the App. So there will not be any problem of permanent locking of your images/videos.
Stealth Activation:
—————————
1. On the Home screen, hit Lock Gallery icon (Top Left corner) 4 times.
2. The Stealth popup appears, Select ON, and provide a Stealth Key.
3. The Key should be a 4 digit key starting with a '*', Example: *1234
4. Hit on OK.
5. Check the App screen, the App icon should disappear, and now the App is in Stealth Mode.
6. Any time, you want to open the App, Go to the Dial Pad and Dial the Stealth Key that you already saved (starting with *). The App opens. Also, if you don't want the App to be in Stealth mode, switch Off the Stealth Key by hitting the Lock Gallery icon 4 times.
Notes:
———-
1. The default (first time access) PIN to access the app is 0000.
2. Please provide the mail id in the settings, so that if you forget your PIN, the same can be sent to your mail account.
3. If you have any issues or suggestions, please mail us at [email protected], we will try to solve them as soon as possible. Please do not under-rate us. Thanks!