Launcher iOS17 – iLauncher APK 1.7.7 (Final) Android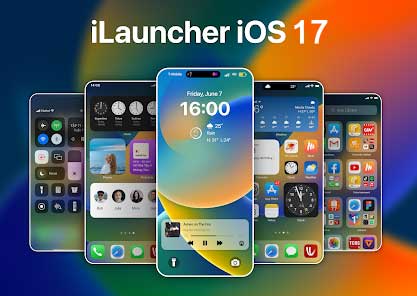 If you are looking for answers to the following questions:
– How can I make my android phone look like iOS 17 iPhone 14?
– How do I get iOS 17 launcher on my android?
– Which launcher can hide apps?
– What is the fastest launcher for Android?
– How can I run iOS launcher on Samsung or Xiaomi or Huawei?
Then This application is answer for you.
"Launcher iOS17 – iLauncher" is the best app to move from android interface to iOS interface.
With "Launcher iOS17 – iLauncher", You can experience iOS launcher on your android phone.
" Launcher iOS17 – iLauncher" is an application to move android launcher to iOS launcher.
Main features:
– Easy to use. Just one click to move to iOS
– Fast and say "No" with lag
– move from android launcher to iOS launcher
– Bring ios launcher to your android phone
– Bring ios interface to your android phone
– Allows you Hide apps you don't want displayed on HOME in the launcher.
– Easy to customize:
Customizable icon (Customize App Icon & Shortcut): You can change & customize icons and names for any apps. The new icons can be chosen from gallery, other app icons and lots of personalized icon packs. Our app will create a shortcut to the new icon on your home screen.
– Personalization: Change desktop grid, endless scrolling, show or hide the search bar, customize the folder view, and many more options!
– Quick Bar (Accessed Apps): Your frequently accessed App can be found quickly (Siri suggestions). You can open all apps through the drop-down, which will show your recently used apps, or you can customize the search bar with shortcuts and apps of your choosing.
Widgets iOS 17 – Color widgets
– Create and Customize your own widgets with iOS 17 Style!
– Many widgets style: Calendar widget, photo widget, Battery widget, Weather widget, Clock widget, Color clock widget, Contacts widget and more
– You also can customize your own widgets with difference colors, fonts or background images.
– Let Customize your own widgets with iOS 17 Style! there is no limit to customize your home screen!
For example:
– Weather: We provide Weather Widget, you can get the weather forecast in recent days. Create a weather widget. Real-time and Local Weather.
– and more widgets are available.
Control center iOS 17
– Control center iOS 17 iphone 13 – new MIUI control center
– Control Center gives you instant access to the things you do the most. You can use Control Center to quickly take a picture, turn on Wi-Fi, screen recorder, and more
– You can customize Control Center by adding controls for apps, settings, and features. The maximum is 12 controls.
Lock screen with notifications iOS 17
– You can quickly access useful features and information from the Lock Screen, even while you phone is locked
– Customize your lock screen, combine iOS style passcode with amazing iOS wallpaper themes to gain a unique lockscreen with notification on your phone.
– The Lock Screen, which shows the current time and date and your most recent notifications, appears when you turn on or wake your phone
– From the Lock Screen, you can see notifications, open Camera and Turn on flash.
– From the lock screen, get notification from your apps
– Set a passcode on your phone to help protect your phone.
Dynamic Spot
Dynamic Spot on OS17 is now available on Android Phone
ACCESSIBILITY
The application commits not to collect or share any user information about this accessibility right.
Apps need accessibility permission for the following purposes:
To use functions: go home, recent apps, go back, lock screen…
Set up the lock screen and display the Control Center.
Listen to the open application to use the "Animation App" function.
iLauncher makes your phone better than before, prettier and more luxurious.
Download "Launcher iOS17 – iLauncher" app and experience iOS launcher now!
Thank you so much for downloading and using the "iLauncher" application.