Gun Disassembly 2 12.2.0 Apk Data for Android
Current Version: 12.2.0

File size: 47 MB | 77 MB

Memorize:

www.ReXdl.com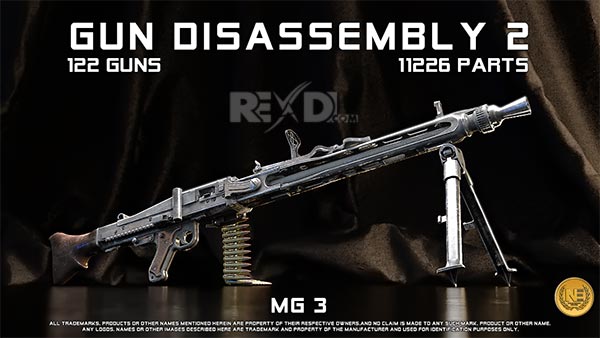 Explore the world of weaponry like never before! Disassemble and reassemble 122 highly-detailed models with fully working animated parts! View the gun in complete 3D, and learn about the inner workings of the guns. Operate the weapons in OPERATION mode and try out your skills by disassembling the weapons as fast as possible, competing with players AROUND THE WORLD!
With fast and responsive 3D graphics, you can discover the parts of the guns from the gears and bullets to the barrel and chamber! Attach scopes, silencers, and various parts to enhance the shooting experience!
Features:
122 highly detailed models, all in FULL 3D and high-definition retina graphics
Explore more than 10500 parts, each with complete sound effects and dynamic lighting
Interact with the guns in OPERATE mode, with four levels of X-Ray and two levels of slow motion
Enjoy five game modes: Demo, Operation, Disassembly, Assembly, and Game
Extensive collection of models available via in-app purchase
Stay up-to-date with new models released periodically,
Available models:
Pistols
Glock 19
CZ75
Colt 1911
SIG P228
Beretta 92FS
Desert Eagle .44
S&W Sigma
Springfield XDM
Browning Hi-Power
Makarov (PM)
Jericho 941
Welrod MKII
Walther PP
Smith & Wesson M&P.40
Ruger SR9
GSh-18
HK USP
FN Five-seveN
Walther P99
APS (Stechkin automatic pistol)
SMG/Assault Pistols
MP5
Tec-9
Uzi
HK UMP 45
Kel-Tec PLR-16
FN P90
Mac-10
Scorpion vz.61
Brugger and Thomet MP9
Kriss Vector .45 ACP
Sterling
Launchers
Revolvers
Colt Python
S&W Model 53
Colt SAA
Ruger New Vaquero
Chiappa Rhino 200DS
Ruger Super Redhawk
Ruger Old Army
S&W Schofield
Webley MKVI
Colt Walker
Nagant M1895
Webley Fosbery
Historical:
Colt Hammer
Mauser C96
Borchard C93
Maxim
Harpers Ferry
Lewis Gun
Winchester 1873
Mauser 1914
Browning Automatic Rifle
Dreyse M1907
WWII
Tokarev Pistol
Luger P08
MP40
Sten MK II
M1 Garand
Thompson Gun
Mauser 98K
PPSH
Boys Anti-Tank Rifle
SKS rifle
Mosin-Nagant
DP 27 machinegun
Walther P38
Lee Enfield
StG. 44
MG 34
Liberator FP-45
Assault rifles
AK47
SIG SG552 commando
LR 300ML
HK G36E
FN FAL
FAMAS-F1
M-16
TAR-21
M4 Carbine
AK74
AKS74 U
AS VAL
Rifles
SIG SG550S
SVD
HK SL9SD
Barrett M107
M14
M200 CheyTac
Steyr Scout
VSS Vintorez
Remington 700
Machine gun
M60
M134D 'Minigun'
Browning M1919
Browning M2
RPK
MG 3 (MG 42)
Compact Guns
Ruger LCP
Derringer
COP 357
AMT Backup
Ruger LCR
Shotguns
Remington 870
Mossberg 500
Benelli M4 Super 90
SPAS-12
Browning A5
Winchester Model 21
Artillery
ZiS divisional field gun
88 cm Flak 37
Sport
Ruger .22 Charger
Marlin 336
Ruger MKII
Marlin 336
Ruger No.1
Beretta CX4 Storm
Browning Bick Mark
Calico M100
TRY OUT THE MOST COMPREHENSIVE MOBILE GUN APP NOW!
WHAT'S NEW:
M3 Grease Gun
MAS 36
Nambu Type 14
PTRS
CZ 52