Sniper Of Kill: Gun shooting MOD APK 1.0.6 (Money) Data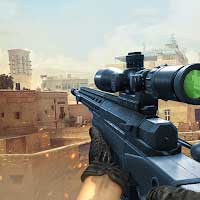 Offline
Experience real-style sniper games and first-class game graphics!
Aim and shoot! Use your precision to write justice!
Game features:
-Top game graphics
World-class 3D modeling, each scene has a nuanced environment, the weather system, the moment when the bullet pops out, there is a shocking slow motion sniper
-Rich arsenal
To be a top sniper, a good gun is definitely indispensable. Sniper rifles, submachine guns, shotguns, pistols, and even RPGs, a total of 72 weapons, covering almost all mainstream weapons on the market, including the world-renowned AK47, AWP, KAR98K, etc.
-Personalized upgrade modification system
There is no strong weapon here. Every weapon can be upgraded and modified individually. Sometimes it is not the best to buy a more expensive gun. You need to earn more game coins in the level to upgrade. Various attributes of the weapon, including muffler, muzzle, ammunition, body, grip, magnifier, magazine, etc.
-Large game map
10 maps with different scenes, from the deserts of the Middle East to the cities of Europe, from the rainforests of the Americas to the jungles of Australia, here can be your battlefield, in battle like scenery from all over the world
-Hundreds of exciting tasks
There are 20 main missions in each map. In addition, there are different ways to play stronghold battles, capture fugitives, and top secret missions.
-Multiplayer competitive mode
As a top first-person shooter game on the market, how can there be no multiplayer competitive mode? You can compete with shooting masters from all over the world in the arena and compete for the final victory
Give up shooting games that feel bad! Join us and start a new battle!
As a top sniper, you need to hide in the dark and give the enemy a fatal blow! Fight for glory!