Farm Charm – Match 3 Blast King Games 2.1.3 Apk + Mod Android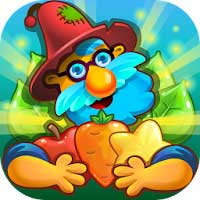 Current Version: 2.1.3

File size: 87 MB | 69 MB

Memorize:

www.ReXdl.com
Jewellery
Offline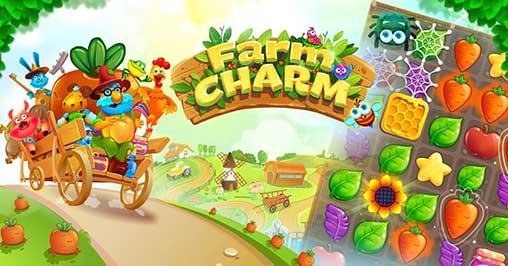 Farm Charm is a charming accumulative match-3 puzzler with lots of fascinating levels! Discover unexpected challenges along your way, use the amazing boosters, and meet cute and funny animal friends.
WHY DOWNLOAD?
• 900 beautifully designed and animated levels in 2 worlds, with many different and unique challenges!
• There are no lives in this game, so you can play as much as you want without waiting!
• No need to annoy your friends with requests in order to progress.
• Cute farm pets will help you by charming the apples, carrots, leafs, glasses of milk and other collectibles.
• Optionally connect to facebook to see the progress of your friends, and compete with them for highscores.
THE STORY OF THE HARVEST
It's harvesting time on the farm of grandpa Joe. The old farmer lives in a charming and slightly enchanted village with his animal friends Mr. Piggy, Mr. Baa-lamb, Madam Frog, Miss Turkey, Moo the Cow and Monsieur Bunny. They jump on the old cart to depart on the big adventure ahead, through the gardenscapes, forests and acres of fertile land surrounding his ranch.
Their journey will lead them through the fascinating village and country around the charmed farm. Along the way they have to collect the apples, waterdrops, carrots, leafs, feathers and stars. But they encounter many more unexpected challenges! Will you help them and become the Farm King?
MATCH TO COLLECT
Swap items to line up 3 or more to match and collect them. Matching 4 or 5 items will result in various beams of magic fairy dust to spread over the level which will charm the items and double their value! These beams will also increase the value of previously charmed (highlighted) items and collect them at triple value.
THE CHALLENGES AHEAD
There are many tasks that need to be accomplished along the way. Grow the sunflowers and free the birds, help the bees collect honey and grow mushrooms. Which came first, the chicken or the egg? Doesn't matter, on our farm we have both! Match the eggs to hatch them and match the chicks to bring them home. No surprise, grandpa Joe also really likes fishing! Feed the caterpillars so they become beautiful butterflies and collect the jam pots for your winter stock. Also clean the garden from dirt and stones while you're at it. Further ahead you have to fight the snails and spiders (and their nasty webs), fill up the barrels and help fireflies out of a trap! If you travel even further you'll encounter more challenges that are yet to be discovered.
PETS AT THE RESCUE
Grandpa's favourite farm pet friends travel along to help him out. They each have a special ability: they can charm one type of item when they have enough energy. This will be a tremendous help, so they're the heroes of this saga!
There are also some amazing boosters available to help you through the harder levels. Receive some help from outer space and call for a UFO to harvest one type of item. More down to earth is your stock of highly explosive pumpkins. For more precision work, you can use your trusty slingshot to shoot acorns.
YOU WILL LOVE FARM CHARM!
You'll have an absolute blast with this relaxing casual match 3 puzzle game! It's not just a toy, but an entertaining experience that will engage you for many months. So don't drop it, Farm Charm will be the new mania in swap & match town. And it's healthy as well, since there's no candy, gummy or jelly on the farm. Only yummy sweet fruits and tasty veggies in this tale. Now it's time for our pet heroes to come out from between the hay stack, and embark on the greatest adventure saga! The farm story begins…
For more match 3 goodness, check out our other games on the store. Also visit us on facebook at https://www.facebook.com/SmileyGamer
WHAT'S NEW
Fixed problem with consent dialog.