Easy Subtitles Premium 1.9.7 APK for Android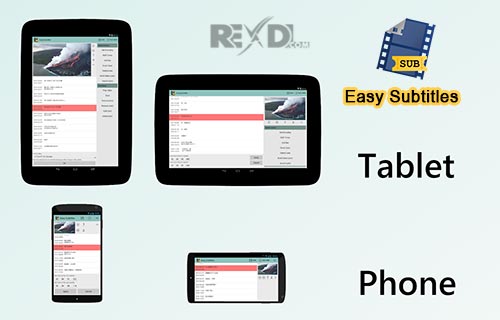 Easy Subtitles excellent software and a simple subtitle editing videos of Didier Hoarau special programming that uses the Android operating system will be able to easily edit your favorite movie subtitles full swing! The program has a user interface very easy and without any ambiguity, provide the capability for you through the vertical column to the right of the screen to easily edit video subtitles, the subtitle search, video View and other features such as split, Delete Lines, Add link, and use.
Some of the features of Easy Subtitles Android app:
Support subtitle formats: srt, ssa and ass
Support: multiple characters encoding
Ability to modify, add, or delete the lines (Lines)
Ability to download video files from external storage
Launch mobile video directly from the application
Easy Subtitles premium version of our software you've put all the capabilities that are available and can be downloaded with a single click.
Note: Version of the software from Easy Subtitles; Premium version and all the resources are available.
WHAT'S NEW
Version 1.9.7:
– Bugfixes
Version 1.9.4:
– Compatibility with Android 6
Version 1.9.3:
– SD Card support for Android 5 and above
– Improvement of video player
Version 1.9.2: Add back the lines after/before section option
Version 1.9.1: Bugfix
Version 1.9.0
– Handle styles for .SSA and .ASS files
– Better multi selection
Version 1.8.0
– Better video visualization with times
– Undo/Redo
– Replace function