DroidJoy Gamepad 1.3 Apk for Android – Full version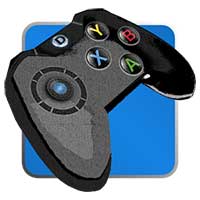 Droid

Joy

Gamepad 1.3
Apk for Android
–
Full version
DroidJoy – Full version
Note: works only on PC not on consoles
***Server should now work on Windows 10***
****DroidJoy server emulates a DInput device****
Before installing the app
1. Download the DroidJoy Server software from http://grill2010.github.io/droidJoy.html#download
2. Install and start the Server on your PC (If you have any problems contact me at anytime)
3. Be sure that your smartphone is in the same network as your PC. If you want to use Bluetooth be sure that your PC is set to discoverable.
4. Start the DroidJoy app. Navigate to the "Connect" window and click "Search server". DroidJoy should now discover the Server automatically.
If you have any problems with the installation of the server, please contact me first before you will give a bad rating. I'm sure that I can help you.
Description
DroidJoy turns your Android smartphone in a real gamepad device for your Windows PC. It offers a huge amount of controller configurations, so that you can use it for multiple game genres. DroidJoy is not a simple keyboard mouse emulator, it is a real gamepad. The driver and the server are available for Windows XP and higher. Even 64 bit operating systems are supported. The server can handle up to 4 DroidJoy clients so that you can easily play multiplayer games with your friends by only using your smartphones.
All you need is the server software, which you can download from the official website:
https://grill2010.github.io/droidJoy.html#download
If you receive some warnings from Windows or your Firewall, please don't worry.
The Server has been tested on Windows XP, Windows 7, Windows 8, Windows 8.1 and Windows 10. If you have any problems during the installation or with the connection, please contact me at f.grill[email protected]. I will try my best to help you with your problem.
Requirements
– Running DroidJoy Server on PC
– Android version 3.2 (HONEYCOMB) or higher
Version 1.3
– Real gamepad emulation
* Multi client support
* Up to 14 Buttons
* Buttons, d-pad, left/ right joystick
* Allow usage of volume buttons
* Use WiFi or Bluetooth connection
– Xbox 360 controller emulation through x360ce tool
– Gamepad layout configuration
* Customization of standard layouts
– Easy server client connection
Information
– If you want to connect more than one controller with your PC, please configure amount of gamepads in the server application
Note: If your game doesn't recognize the virtual gamepad as input device, this could have several reasons. Some new games just support XBox360 gamepads and won't work with other gamepads like the DroidJoy virtual controller. If you want to play a game which only supports xBox360 gamepads you can try the x360ce tool. Note, there is no guarantee that the external x360ce application fully supports DroidJoy or any of your games. Please try the free demo version before installing the application.
WHAT'S NEW
V. 1.3.1
+) !!! Fix gamepad button click error !!!
+) Reduce button vibration intensity
+) Change action view alignment
—————————————————-
V. 1.3.0
+) Add software volume buttons
+) Add two more action buttons
+) Bug fixes
PLEASE UPDATE SERVER
If you have any problems please feel free to contact me. In case you want to play games which just support xBox360 gamepads, use DroidJoy in combination with x360ce.
Current version of DroidJoy server is 1.3.0.