Draw Rider 2 Plus 2.1 Apk for Android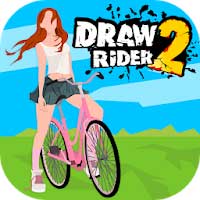 Offline
In the plus version there is no advertising.
This is an alpha version! Game contains basic game mechanics and level editor. In Community you will be able to play custom levels.
Draw Rider is back! Meet the long awaited continuation of the legendary hardcore racing game. Even more super hardcore levels full of dangerous obstacles and puzzles based on the laws of physics. The new level editor will give you unlimited creative freedom thanks to a large number of possibilities.
Features:
– Realistic physics simulates the motion of a rider
– Fall of the ragdoll-character leads to bloodshed and severed limbs
– The in-game editor allows you to create levels according to your taste
WHAT'S NEW
After a long development, we are pleased to present a new update to the game Chameleon v2.1.
– Added new levels
– Added new sounds in the editor
– Added merge objects and grouping, while holding the finger
– Added creation of objects and standard objects
– Added new character skins (more than 100 options)
– Changed text
– Fixed selection of objects
– Fixed copying object to another depth
– Fixed loading levels in Online
– Many other minor changes.