Highway Traffic Rider 1.7.8 Apk Mod Cash Energy Android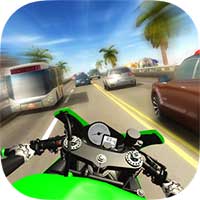 Offline

&

Online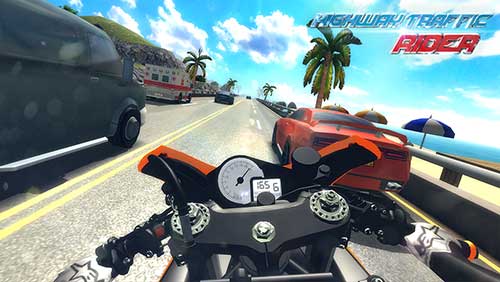 Highway Traffic Rider is a fast paced superbike racing game with high-speed adrenaline-fueled driving you've never experienced before!
Ever wanted to feel how to rush on a highway with a fast motorcycle? In Highway Traffic Rider you can safely enjoy the feeling!
KEY FEATURES
– 10 different motorbikes with realistic 3D cockpit view.
– First person motorbike driving experience.
– Realistic motorbike handling.
– Stunning 3D graphics even on low-end devices.
– Weather simulation.
– 2 game modes: one-way and two-way traffic racing.
– Heart-thumping music and outstanding audio experience.
– Online leaderboards and achievements.
GAMEPLAY
– Overtake traffic vehicles
– Tilt or touch to steer
– Perform wheelies for maximum reward
– Tap brake to slow down
HINTS
– The faster you drive the more rewards you get
– Performing wheelie gives you higher scores
– Overtaking cars closely increases your combo and gives extra scores
– Driving in opposite direction in two-way mode gives extra scores
– The amount of cash earned depends on score, highest combo and overall wheelie time
Please give the game positive rating to support regular updates and give your feedback for further improvements.
Like us on Facebook to get the latest news: https://www.facebook.com/zipzapgames/
Highway Traffic Rider is the one of the best 3D traffic racing game. Please give us a positive rating and a honest review to inspire us creating game updates faster with lots of new bikes, improved traffic simulations, new 3D locations and more fun game modes!
________________________________________________________________________
This app allows you to purchase virtual items within the app.
________________________________________________________________________
Please ride safe on the roads and enjoy crazy driving in Highway Traffic Rider!
________________________________________________________________________
Highway Traffic Rider is an original product of ZIPZAP GAMES.
WHAT'S NEW
THE BIGGEST UPDATE SINCE LAUNCH!
SKILLS – earn skill points and upgrade your driving skills!
BUFFS – select a buff at the beginning of each race to help completing your missions.
PREMIUM PASS – get tons of rewards with the Pass.
50 new mission levels.
Reviving isn't limited to two times.
Full game re-balance.
Special offers.
Improved multiplayer experience.
Plus tons of improvements and bug fixes for maximum fun!
Thanks for playing Highway Traffic Rider!