Digby Forever 1.4 Apk + Mod Unlocked for Android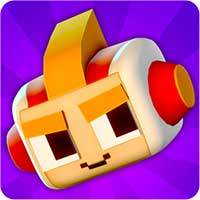 Offline

DIG! DODGE! COLLECT! WIN!
Help Digby dig, set off bombs, dodge cave-ins and evade a colourful cast of foes in Digby Forever – an explosive new endless digger from 3 Sprockets!
How to play?
Swipe to start moving in a direction. Tap to pause and resume movement in that direction. It's that simple!
Watch out for crazy monsters, lava, lasers and even cave-ins as you dig as deep as you can uncovering crystals. Mix up the game using powerful ability cards that change your experience in fun and unpredictable ways.
Want to replace all lava with crystals?
Want to skip the first 50m?
Want to remove lasers from your game?
How about double speed drilling?
Do all of that and more with collectible ability cards that give you the power to play how you want.
Key Game Features
Explosive action (seriously, so many explosions)
Intuitive controls – just swipe and tap!
Mix and match over 60 game-changing cards
Collect DigBots for extra gems
Unlock a huge range of characters and themes