Cloud Raiders 7.8.2 Apk for Android
Online Game
Removed due to copyright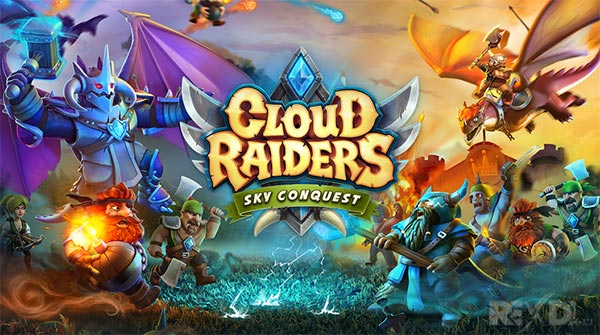 Version 7.0 is here! Stronghold 10, a new troop type, towers and a few surprises along the way:
Stronghold Level 10: The floodgates are open! Upgrade your Stronghold to level 10 before anyone else and enjoy a whole new set of deadly contraptions! Dragon Tower, Poison Barrels, the indomitable Gauntlet and dozens of dangerous upgrades await! Put those clouds to good use, Captain.
New Level Cap: Level cap raised to 160! Actually, hang on… let's make that 180!
Gauntlet : The strangest troop to arrive in the clouds yet… immense damage, incredible toughness and a strange charisma makes him one of the most dangerous troops ever to set foot on the airborne archipelago!
Dragon Tower: The Builders Guild™ has cooked up a fire-breathing, lava-spewing bbq-grilling tower. It takes a while to warm up, but the damage output is colossal. Also doubles as a hog-grill for summertime troop rallies.
Poison Barrel: Drop this barrel to create a pool of deadly poison on the battlefield. Anyone stepping in it will receive continuous poison damage!
Cloud Raiders catapults action strategy to dizzying new heights! In a sky filled with floating islands, you must dominate them all. The best part? You have a five-million-ton floating island stronghold to do it! Assemble your army of ruthless raiders and transform your island into an impregnable fortress of doom! Form clans with your friends and blast your enemies out of the skies!
——————————-
Official Page on Facebook: https://www.facebook.com/cloudraidersgame
——————————-
Fortify your base with thundering cannons, cunning traps and spellbound artifacts, then lead your troops on sorties to fend off intruders and withstand hordes of skyborne enemies. Vicious pirates are only the first threat on the horizon, so quickly scatter their dastardly fleet to the four winds. Train an army of axe-brandishing marauders, grenade-lobbing bombardiers, fire-breathing dragons, and many more fearsome warriors to take the fight to your foes!
——————————-
Key features:
Millions of strategies, but just one goal: Grab the other guy's loot!
Form clans and fight for global dominance! Battle your way to ranked-PvP glory!
Charge through an epic campaign across Floating Fortresses, Pirate Rafts, and other exciting airborne battles!
Pit your army against legendary bosses and pirate overlords! Rumor has it giant golems roam the cloud forests, but those are just tall-tales… right?
Summon powerful new units every week to fight by your side!
Protect your base with powerful cannons, cunning traps and other fortifications! Rally your troops from their bunkers to meet your attackers head on!
Unlock the full potential of your warriors, spells and heroes by upgrading them in the laboratory!
Brew your own buffs to get an edge on the battlefield! Just don't let your bombardiers near the brewery… that's an accident just waiting to happen!
Call in devastating cannon salvos from your Battle Carrier! Unlock new ammo upgrades to obliterate your opponents!
Official game trailer: http://www.youtube.com/watch?v=-sIhq3D2OYk
Discover new titles from GameInsight: :
http://www.game-insight.com
Join our community on Facebook:
http://www.fb.com/gameinsight
Subscribe to our YouTube channel:
http://goo.gl/qRFX2h
Follow us on Instagram:
http://instagram.com/gameinsight/
Privacy policy: http://www.game-insight.com/en/site/privacypolicy
WHAT'S NEW:
7.8.2 – Game stability improvements
Update 7.8.0 landed!
· Battle Belt to take 4 items on your epic raids!
· Belt Sets for quickly switching consumables!
· Gold Drills are now more effective
· Several units rebalanced
· Traps are much cheaper to rearm
· Loading time improved
· Immersive Mode added
· Additional cleanup and preparation for Clan Wars!