Chat Emoticons- Stickers (Pro) 1.0.6 Apk for Android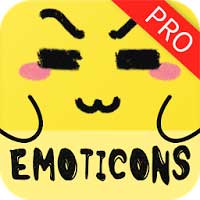 Chat Emoticons is a sticker and emoticons app with various emojis, smileys, stickers, emoticons, animated GIFs and other funny images for your chat app.
Huge collection of offline emoticons for sharing your feelings with your friends through Facebook, Whatsapp, Messenger, WeChat and other social network. Custom tag & search function make it more convenient!
Key Features:
★ 700+ high quality emoticons for chat moods
★ Offline sticker packs: no need to download or connect to internet
★ Search emoticons: customize tag for loved emoticons and easily to search
★ Edit existed emoticons
★ Add local emoticons to My Emoticons
★ Support set as favorite, saved to phone
★ Quick access to recently used stickers
★ Easily share emoticons on Facebook, Whatsapp, Wechat & other social media
How to use
Click the emoticon you want to share, and select the chat app, choose the chatting friend you would like to share, then the sticker will be send out to your friend.
WHAT'S NEW
Fix bug