JusTalk – Best Video Call & Chat 7.1.5 Apk Android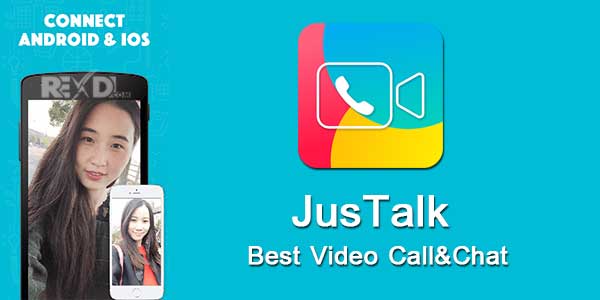 Download last version JusTalk – Best Video Call & Chat Apk Android from Rexdl.
❤Welcome to the best video call app—JusTalk!
You can enjoy FREE video call & voice call for iOS & Android users. You'll experience the most clear video calls, voice calls, internet call, group chat. You can start JusTalk by Facebook account or mobile phone number to use video call, voice call, video chat, internet call or group chat. JusTalk is the best FaceTime on Android.
Now, please enjoy your happy free video calls and voice calls by JusTalk!
More fashion functions will be released on BETA Group every week.
Accept in below link.
https://play.google.com/apps/testing/com.juphoon.justalk
★Free Video Call/Chat
JusTalk provides super clear and high quality video calls just like FaceTime and Skype without time limit and totally free for HD (High Definition) video call and video chat.
★Free Voice Call
JusTalk supports super high quality voice call for free anytime.
JusTalk uses high-tech to reduce voice data lost so that ensures you can make voice calls clearly even in a noisy environment with Echo Cancellation.
★Free Group Chat
JusTalk could support Multi-user Talk in a group chat later. Start a group chat with your friends, family, colleagues and game partners concurrently. Or negotiate a meeting by group chat anywhere and anytime.
JusTalk can be a games assistant by high clear voice chat and video chat for Minecraft, LOL, AVA, GTA, CS, CF, Dota. JusTalk—the best choice for game players.
JusTalk's super clear group chat help you to be the game winner!
★Doodle in video call
Make video call more interesting. – Draw a mustache or black eyes on his/her face!
Not understand? – "I'd like this one, that one and…" Why not directly circle what you want.
Embarrassed to say? – If you are too shy to say the three words, just write out "Love" on screen.
★Video call record
Record your happy moment by [Record] and enjoy it on anytime and anywhere. You can record the video during video call and find all the recorded video in JusWorld "My Recording".
★Games
JusTalk provides Super Funny Games during video calls!
★Saving Data Usage
JusTalk provides free video calls via Internet connection*(4G/3G/EDGE or Wi-Fi are available), saves about 40% net flow consumption during video calls and voice calls less than WhatsApp, Viber, Yeecall, Tango, Wechat, Facetime, Facebook and Skype.
JusTalk save user´s cellular data usage by providing optimal data throughput during the voice call and video calls with HD quality
★JusTalk Everywhere
JusTalk supports both Facebook account registration and mobile phone number registration. Make video calls or voice calls with all friends on the lists of Facebook and mobile phone.
JusTalk supports Android phones & iPhones (iOS), different from Facetime only available between iPhones.
JusTalk supports video calls and voice calls on Android tablets and iPads.
★Security and Privacy
Don't worry!
JusTalk encrypts both the HD voice calls and the video calls.
No eavesdrop in voice calls and video calls!
JusTalk takes great care and protects your information from misusage, loss or unauthorized access during video calls and voice calls.
★Other Features
Bluetooth devices supported, much easier for you to answer a voice calls while driving and walking
Various ringtones.
★Activities
Amazing activities and games during festivals. Spend happy hour in JusTalk's video calls.
❤ Contact Us
– Any feedback or questions? Please email us at [email protected]
– Juphoon System Software Corp (Ningbo, China)
– Address: Ningbo, China
WHAT'S NEW
Latest Updates:
– Now you can send and receive PICTURES on chats!
– Bug fixes and general stability improvements
Recent Updates:
– You can now change your profile pictures!
– Our solid-colored themes are finally back as well as new special themes for new UI!
Thanks for being on JusTalk! If you have any questions, concerns, or suggestions, please feel free to email us:
[email protected]