CATS: Crash Arena Turbo Stars 2.25.1 Apk (Full) for Android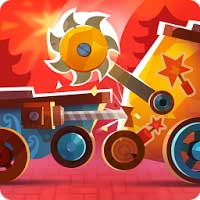 Online
From the creators of the hit games Cut the Rope and King of Thieves, comes the most ingenious and stylish battle bot constructor! Join more than 55 million players from all over the world and become the star of the Arena!
Unite into powerful gangs, participate in gang battles or create a super-strong Ultimate machine to dominate the Ultimate League fights! Make every opponent bite the dust!
Features:
• Be a master engineer: design, craft, upgrade, and improve the Ultimate battle bot!
• Take the role of a mean street cat and fight against other players in fast and hilarious PvP action!
• Discover dozens of crazy weapons, gadgets and body shapes, including badass Ultimate Machines! Outsmart your opponents with your unique battle bot design!
• Create a powerful gang and rule the streets! Participate in gang battles to win unique parts, make new friends and share your secrets in your gang's chat.
• Battle against real players and fight your way to the top of the World Championship!
• Bet on other bots and share replays of your best fights!
Get the game now for free and become the star of the Crash Arena!
WHAT'S NEW
It's C.A.T.S. 3rd anniversary, but Uncle Tony is missing! We've been looking for him everywhere, and now we need your help.
SPECIAL EVENTS MONTH: Participate in All Stars, Grand Prix and other competitions while searching for Uncle Tony.
NEW EVENT – THE SCRAP RUN: Play the Championship to receive bolts. Spend them in the Junkyard in exchange for chests full of spare parts.
UNIQUE REWARDS: Once the event is over, the Junkyard master will reward you with brand new parts.