Build A Truck Duck Duck Moose 1.2 Apk Mod Money for Android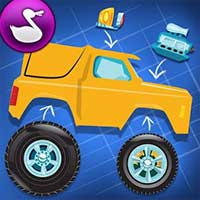 Build A Truck Duck Duck Moose 1.2 Apk Mod

Money

for Android
Offline

BUILD and RACE your very own monster trucks! Build A Truck allows you to customize and build monster trucks. But choose carefully, as each decision and building block will have real impact on your trucks when the races begin! Experiment with the physics of speed, torque, drag, mass, inertia, friction, acceleration, gravity and more. Build A Truck is the third new app in Duck Duck Moose's award-winning Trucks series. AGES: 4-8
CATEGORY: Play
ACTIVITIES
FACTORY: Choose a body, paint, decal, wheels, engine, and exhaust! Come try dragon wings, sirens, propeller hat, and more on your Truck
GARAGE: Start collecting cars and earning medals in the Garage
RACE: Race your truck through snow, jungles, sewers and an ever changing surprise track for unlimited play
ABOUT DUCK DUCK MOOSE
(A wholly-owned subsidiary of Khan Academy)
Duck Duck Moose, an award-winning creator of educational mobile apps for families, is a passionate team of engineers, artists, designers, and educators. Founded in 2008, the company has created 21 top-selling titles and has received 21 Parents' Choice Awards, 18 Children's Technology Review Awards, 12 Tech with Kids' Best Pick App Awards, and a KAPi award for "Best Children's App" at the International Consumer Electronics Show.
Khan Academy is a nonprofit with a mission to provide a free, world-class education for anyone, anywhere. Duck Duck Moose is now part of the Khan Academy family. Like all Khan Academy offerings, all Duck Duck Moose apps are now free, without ads or subscriptions. We rely on our community of volunteers and donors. Get involved today at www.duckduckmoose.com/about.
We'd love to hear from you! Visit us at www.duckduckmoose.com or drop us a line at [email protected]