Art of War 3: PvP RTS strategy 1.0.68 Apk for Android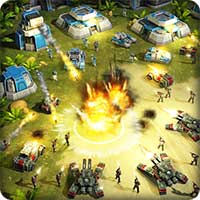 Online
А unique mobile MMO real-time strategy war game – command, conquer and defeat your enemy on a battlefield. In this game you have to fight with other players in PvP battles, invent new combat tactics, develop your victorious strategies, upgrade infantry, tanks, land vehicles, navy and air force to obtain supremacy over the enemy in a battle.
Art of War 3: Global Conflict (AOW) – is a real-time strategy game in the best traditions of Red Alert and Command & Conquer series. The action takes place in the near future. The world is engulfed by a global conflict between 2 warring factions – the Confederation and the Resistance. Choose your side and fight shoulder to shoulder with other commanders to win in this confrontation.
● The best online strategy game with real-time PvP battles.
● Classical RTS control system in battles. You can control each unit directly like in Red Alert or Command & Conquer.
● Real-time online PvP battles with stunning detailed graphics will provide you with a full immersion.
● A variety of units and tactical abilities allows to invent different victorious strategies.
● Two warring factions with their own features, unique combat units, strengths and weaknesses.
● А huge number of unit and building upgrades gives you ample opportunities to create your unique victorious army.
● Continuous World War in which the clans fight each other for dominance over the regions and the entire world (in development).
● Many single-player campaign missions for each faction including dozens of hours of game time.
This online real-time strategy (RTS) modern war game gives you an opportunity to feel yourself a general on a battlefield. Build your base, train infantry, produce tanks and armored vehicles, battle aviation and warships to defeat the enemy. Use superweapons and unleash your power! Join with your friends into a clan and fight other clans to dominate the world. Bring your enemies to a total annihilation!
We need you, general!
It is multiplayer online game. It needs constant stable internet connection.
The game is in a soft-launch.
AOW Facebook page:
https://www.facebook.com/aow3rts
AOW YouTube channel:
https://www.youtube.com/user/GearGamesInc
AOW Google+ community:
https://plus.google.com/communities/114952886164743568308
WHAT'S NEW
Commanders, meet the new version! We have improved performance even more. Some devices showed an increase in FPS up to +25%! In addition, we are happy to present you the recruiting program. Invite your friends to the game, help them to grow to high ranks and get valuable prizes together for your activity!