Dan The Man 1.1.1 Apk Mod Money Unlocked for Android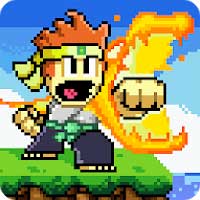 Dan The Man 1.1.1
Apk Mod

Money

Unlocked

for Android
Offline
Halfbrick studios, the creators of Fruit Ninja and Jetpack Joyride go back to their N64 roots to bring you an action platformer like no other. Featuring a Mario like hero, weapons that go boom and action that hits you like a slug to the chest, Dan The Man is the genesis of a new style of mobile game.
Play your way in Story Mode, Endless Survival Mode and Battle Mode to unlock costumes and upgrades and use arcade style controls to defeat super difficult bosses that will make you shake like jelly!
Ever wish you could take your favourite arcade game on the bus, train, plane or to the beach? Well now you can!
Download Dan The Man, the best retro arcade action game on mobile now.
KEY FEATURES:
Bone-crunching boss fights. These robo monsters will hit you right in the gearbox!
Powerful weapons and upgradeable attacks. Bring the sonic boom!
Create custom characters or play as Dan, super girl Josie and Barry Steakfries (IAP)
Test your skills in Battle Mode. Pow!
Daily events with super rewards
Secret areas brimming with treasure
Pinpoint controls with support for gamepads. Just like playing Nintendo on your phone!
Play the story. Save the day. Be Legendary!
WHAT'S NEW
Love is in air…but don't let that fool you, cause this Valentine's update adds pucker to its punch!
Here's the lovin' that's on offer:
VALENTINE'S DAY COSTUME PACK (DISCOUNTED): Teddies and Strawberries and Lawyers, OH MY! (Oh…and Cupid too!)
VALENTINE'S THEMED WEEKLY EVENT: Listen to some sultry beats while you bash bears and berries to a pulp!
VALENTINE'S GIFT CARDS: Send romantic, funny or ironic cards to someone special…or not so special!