Video Merge & Video Joiner 1.0 (Full Premium) Apk for Android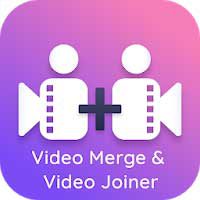 A simple tool that can be used to merge videos into a single video. Videos can be joined in various different ways. Like you can join video side by side that can be played simultaneously in a single screen, or you can merger videos that can 1 by 1. Also using this app you can mute video, or change music or audio of the videos. Using this you can video stories too.
App Features:
— Merge videos in different ways :
1. Side by side :-
– Select two videos and the videos will merge in side by side style.
– Watch 2 videos playing simultaneously.
2. Up & Down :-
– Select two videos and the videos will merge in up down style.
– Watch both videos playing together.
3. Sequentially :
– Merger video to play in a single loop one by one.
— Mute Video : Using this app you can also mute any video.
— Change audio in Video : remove the original audio and add a new music or audio file top the selected video.
— Multiple Audios :
– Add multiple audio files to play together or one by one.
– Also add multiple audio & music files while you merge video.
— Save and share your merge video on social media.
— Also merge small videos to to create video stories.
Quick & easy to merge video, mute video or change audio in video using this Video Merger & Video Joiner app.