UCCT – Unit Converter, Calculator & Translator 2.0.0 Apk for Android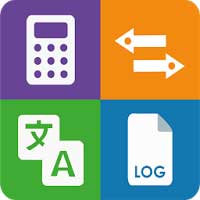 UCCT includes thousands of converters, calculators and translators. It is an essential smart tool to have, whatever your background.
I know its possible to find tools through the Internet that can convert, calculate or translate accurately. But why should you go through the hassle in searching for it, when you can get to work instantly with UCCT. Best of all, it works without the requirement of the Internet.
This app is still currently in development. At the end of September, it should have over 5000 different converters, calculators and translators. This in total will be 15,000, more than what most firms put into their apps.
I've sorted the app into 3 categories. Below you will see a brief explanation for each.
Calculators – Consists of tools that calculate real-life mathematical problems (e.g. calculate the inverse matrix, calculate arithmetic operations etc.)
Converters – Converts units from one measurement to another (e.g. centimetres to kilometres.)
Translators – Translates values from one methodology or language to another (e.g. translating binary values into the english language.)