The Weather Channel 10.30.0 Apk + Mod (Full) for Android
Current Version: 10.30.0

File size: 46 MB | 53 MB

Memorize:

www.ReXdl.com
Ad-Free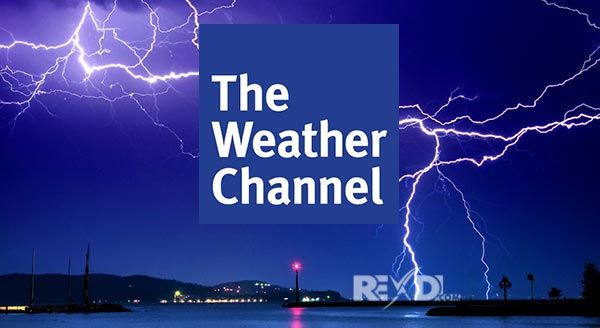 The Weather Channel is an American basic cable and satellite television channel that is owned by The Weather Company, itself owned by a consortium that is owned in turn by NBCUniversal and investment firms The Blackstone Group and Bain Capital – and includes the online weather services Weather Underground and Intellicast, and weather data and software company Weather Services International (WSI) among its properties. The Weather Channel has its headquarters located in Atlanta, Georgia.
Launched on May 2, 1982, the channel broadcasts weather forecasts and weather-related news and analysis, along with documentaries and entertainment programming related to weather. In addition to its programming on the cable channel, TWC also provides forecasts for terrestrial and satellite radio stations, newspapers and websites, and maintains an extensive online presence at weather.com and through a set of mobile applications for smartphones and tablet computers. A sister network, Weatherscan, is a digital cable and satellite service that offers 24-hour automated local forecasts and radar imagery.
As of July 2015, The Weather Channel was received by approximately 89.7 million American households that subscribe to a pay television service (77.1% of U.S. households with at least one television set). As recently as February 2015, the network was the most distributed cable network in the United States with 97.3 million subscribers (or 83.6% of US households). However, it was subsequently dropped by Verizon FiOS (losing its approximately 5.5 million subscribers), giving the title of most distributed network to HLN. Actual viewership of the channel averaged 210,000 during 2013 and has been declining for several years.
You. Yes you, weather fan.
Whether you're a storm tracker or planning for the school day, The Weather Channel app brings the most useful, personalized, and hyper-localized forecasts, radar maps, conditions, and alerts directly to you.
KNOW THE WEATHER ANYWHERE, RIGHT NOW
Forecasts: Choose hourly, 36-hour, 10-day and weekend forecasts in Celsius or Fahrenheit.
Current Weather Conditions: More than temperatures, get "feels like" weather, humidity, dew point, sunrise, sunset, wind speed, UV index, visibility and barometric pressure.
Weather Maps: Fast-loading radar maps show past and future radar. Map layers show road or satellite views, water temperature, wind speeds, snow cover, and more.
WEATHER PUSH ALERTS
Severe Weather Alerts: Stay safe with National Weather Service notifications of severe weather, and know the moment tornado or severe storm watches and warnings are issued.
Breaking News Alerts: Keep informed with national weather news updates.
Lightning Alerts: Get real-time alerts for your GPS location, and know where lightning strikes near you.
Rain Alerts: Never get caught in the rain again with real-time alerts for your GPS location and morning rain reports for your favorite locations.
Pollen Alerts: Know the pollen counts near you.
It's easy and free! Learn how to unlock these alerts in three steps by watching this tutorial:http://youtu.be/SYkqDGnx02E or go to your settings and select sign-up.
DIVE DEEP INTO YOUR WEATHER
Hurricane Central: Track tropical storms and hurricanes, get the latest breaking news and public advisories, read safety tips, and more!
Social Weather: Take pictures and share the amazing weather you experience, plus report it directly to us. Your reports help others track approaching weather.
24/7 Remote Temps: Populate your notification bar with the current temperatures of your favorite locations worldwide.
Weather Widgets: We have widgets available in 1×1, 2×2, 1×4 and 4×4. You're welcome.
Seasonal Tools: Our pollen counts help you keep your plans in harmony with the day's weather. (MOBILE DEVICES ONLY)
Weather News: From severe storms to straight-up bizarre weather occurrences, we'll keep you up-to-date.
Weather Videos: Local forecasts, climate change news, and everything in between, all streamed in HD.
Sleek Interface: Easy to use and beautiful in its simplicity.
Stunning Imagery: Amazing background photos match your current weather conditions.
Love For Android Tablets: The best weather app and widgets are optimized for Android Tablets.
Session M: Like earning free stuff? Us too! That's why we integrated Session M. To activate your account and start earning gift cards and other cool prizes, click the gift box icon at the top of our App. If you're not interested, you can disable this feature in the app menu.
THE WEATHER CHANNEL ON THE WEB AND SOCIAL MEDIA:
All the weather, wherever you go: find us at weather.com, like us on facebook.com/theweatherchannel, and follow us on Twitter @weatherchannel. After all, #ItsAmazingOutThere
FEEDBACK:
We're always looking to improve our app and appreciate your feedback. So please rate, review, and +1 us in the Google Play Store. If you have suggestions, submit them to [email protected]
PRIVACY:
You may be interested in our Privacy Policy (in English), which can be found here:http://www.weather.com/common/home/privacy.html and our Terms of Use (in English), which can be found here: http://www.weather.com/common/home/legal.html
When you see the world through weather, It's Amazing Out There.
WHAT'S NEW:
– We're bringing you more severe weather alerts. Sign up for push messages for snow squalls and dust storms!
– Performance enhancements and bug fixes.
As always, we appreciate your feedback. Please email us at feedback.weather.com with any suggestions or questions. If you love our app, please let us know by rating us in the Google Play Store.