Sipnetic MOD APK 1.0.50 Full (Premium) Android
Sipnetic is a free VoIP softphone based on the SIP protocol. It allows you to connect to your VoIP provider, cloud PBX, or an enterprise telephony server.
Voice over IP (VoIP) technology offers many attractive advantages over the legacy telephony. It is often cheaper and provides some advanced features, such as video calls, instant messages, or data encryption.
Note
Sipnetic doesn't offer a VoIP service. To use Sipnetic you need an account from a SIP service provider. Some features may be not supported by all SIP providers.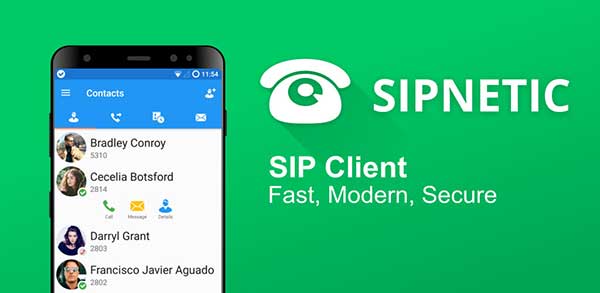 Features:
Compatibility with all standards-compliant VoIP providers and PBXes.
Supports calling over 3G/4G and Wi-Fi.
Modern UI.
Great audio quality provided by the Wideband Opus codec. Legacy codecs, such as G.722, G.711, Speex, and GSM, are also supported.
Acoustic echo cancellation and automatic gain control.
Video calls using H.264 codec (Available as a Premium Feature).
Support for various NAT traversal techniques, including STUN, TURN, and ICE.
Instant Messaging with text and voice chat capabilities.
Secure calls based on TLS, SRTP, and ZRTP protocols. End-to-end encryption of chat messages with OTRv3 protocol. ZRTP and OTR support is available as a Premium Feature.
Integration with system contacts including built-in contact editor.
Presence information support based on the SIMPLE protocol suite.
Multiple SIP accounts support with automatic account selection.
Classic telephony features, such as multiple calls, placing call on hold, sending DTMF digits, voicemail message waiting indication.
Experimental Walkie-Talkie mode well suited for low-bandwidth links.
Light and dark UI themes (Available as a Premium Feature).
No ads, no user tracking, no personal data collection.
Available in English, German, and Russian.
Video calls experience may vary depending on the device and firmware capabilities. Sipnetic always uses the system implementation of the H.264 codec. Android 5.0 or higher is recommended.
WHAT'S NEW
• Improved detection of network settings
• Added support for G.729 audio codec
• Added option to disable the New account wizard (When disabled, adding an account will simply show all available settings)
• Added ability to open various Android settings screens from the app's Advanced settings page
• Minor UI tweaks